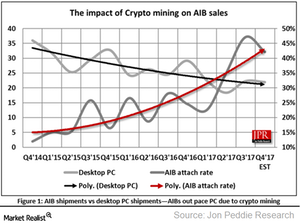 What's NVIDIA Doing to Protect Gamers from Rising GPU Prices?
By Puja Tayal

Feb. 20 2018, Updated 7:31 a.m. ET
NVIDIA prioritizes gaming over cryptocurrency
In the preceding part of this series, we discussed how the prolonged cryptocurrency boom could negatively impact the gaming businesses of NVIDIA (NVDA) and Advanced Micro Devices (AMD). The two companies realize the risk and are therefore taking measures to protect their core business of gaming.
Third-party retailers are leveraging the GPUs (graphics processing units) supply shortage created by crypto miners to charge very high prices for GPUs. This has left games with limited access to fairly priced GPUs, creating a pent-up demand. While this may be a positive scenario in the short term, a prolonged undersupply could shift gamers to another medium of entertainment, which would have a long-term impact on NVIDIA's business.
Article continues below advertisement
During its fiscal 4Q18 earnings call, NVIDIA's management stated that the company's main focus is gamers and not cryptocurrency miners. For this reason, the company has asked retailers to discourage bulk GPU purchases by limiting the number of cards sold per person to two or three. In this way, it will urging retailers to give priority to gamers, instead of miners, while selling GPUs.
However, the company admitted that retailers are not bound to follow its recommendation, and so it has now asked e-tailers and system builders to prioritize gamers over miners. But this isn't that effective of a solution.
NVIDIA's efforts to boost GPU supply
Another solution that both NVIDIA and AMD have suggested is increasing the supply of GPUs. However, AMD noted that its GPU production is limited due to a shortage of memory chips, including GDDR5 (graphics double data rate) and HBM2 (high bandwidth memory). However, NVIDIA chief executive officer Jensen Huang did not acknowledge that memory shortage was limiting its production capacity—only stated that the company is constrained.
One way that NVIDIA and AMD could directly address the issue would be by tweaking the design of gaming GPUs in such a way that they cannot mine currency.
What analysts think about the cryptocurrency trend and NVIDIA's revenues
Analysts have been mixed over the impact of the cryptocurrency trend on NVIDIA's revenue. Wells Fargo analyst David Wong was bearish on NVIDIA as he was concerned that a cryptocurrency crash would vanish the growing GPU demand from miners and flood the market with heavily used cards.
On the other hand, RBC Capital Markets analyst Mitch Steves has been bullish on NVIDIA because he believes that the company will enjoy strong revenue in fiscal 1Q18, regardless of the demand from crypto miners. This is because the GPU shortage has washed away channel inventories. NVIDIA will have to replenish the inventories to meet the pent-up demand from gamers who couldn't access GPUs in 4Q17.
Next, we'll look at NVIDIA's profitability.