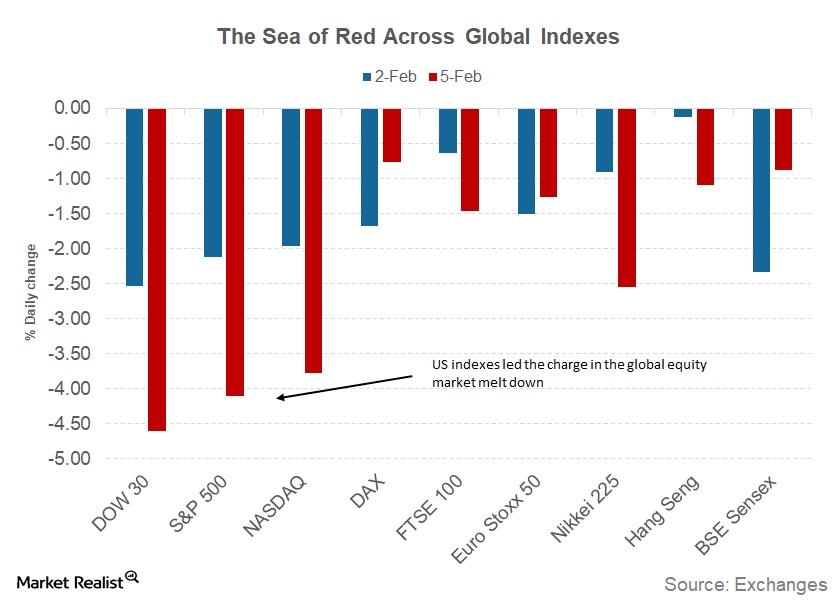 What's behind the Stock Market Fall?
By Ricky Cove

Feb. 6 2018, Updated 9:55 a.m. ET
A sea of red across global markets
The last two trading sessions on February 2 and 5 have left many investors worried about assets in the bond (BND) and stock markets. The sell-off in the stock market began after the US employment report was published on Friday, February 2. The reason for the sell-off was a sudden realization that the threat of higher interest rates is real and could limit further gains in equity prices, prompting investors who were sitting on handsome profits from the spectacular bull run to lock in their paper profits.
Article continues below advertisement
The sell-off was broad-based
The sell-off was broad-based with all the sectors of the US index, excluding the utility sector, shedding more than 2.5% on February 5. The SPDR S&P 500 ETF (SPY) and the Dow Jones Industrial Average (DIA), which track the performance of the S&P 500, lost 6.4% and 7.1% of their value over the last two trading sessions, wiping out all of January's gains. Outside the US markets, there was a contagion effect with all major global indexes following the US markets. The Vanguard all-world ex-US (VEU) and the Vanguard total international stock (VXUS) ETFs, which track the global markets, have lost more than 6% over the same period. This sharp fall in global indexes was expected after the unprecedented gains over the last 14 months.
Is this a correction?
A fall of more than 10% in market value from the most recent peak is generally considered to be a correction. The US indexes have had four such corrections since the onset of the current bull market cycle in 2009. The current sell-off hasn't reached this level yet, but a few more days of selling could push losses above the 10% mark. In this series, we'll analyze the reason for this panic selling in the financial markets and discuss whether investors should worry.