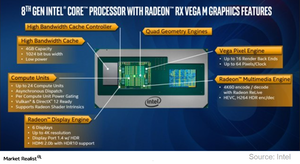 What's AMD's Strategy to Boost Revenue amid Competition?
By Puja Tayal

Mar. 1 2018, Updated 10:30 a.m. ET
AMD's strategy to boost revenue
Advanced Micro Devices (AMD) is expanding its Ryzen CPUs (central processing unit) beyond consumer desktops into consumer and enterprise laptops as it looks to gain market share from Intel (INTC) in the PC (personal computer) CPU market.
AMD is also looking to gain GPU (graphics processing unit) market share from NVIDIA (NVDA) by putting the Vega GPU inside as many PCs as possible.
Article continues below advertisement
Vega
AMD has launched Vega M GPUs for mobile PC platforms. It's using these GPUs inside its Ryzen Mobile APUs (application processing unit). In November 2017, it also partnered with Intel to supply custom Vega M GPUs for the latter's high-end mobile PC platforms.
At the CES 2018 (Consumer Electronics Show), Intel unveiled a mobile PC platform that integrates its H-series eighth-generation Core i5 and i7 Kaby Lake CPUs with AMD's Radeon RX Vega M GPUs. As Intel dominates the PC processor market with an ~80% market share, getting inside its processor would open up a huge market for AMD.
Apple would be the biggest beneficiary of this partnership because it uses Intel's CPUs and AMD's GPUs to power its MacBooks.
By competing and partnering with its archrival Intel, AMD is looking to bring its GPUs inside as many PCs as possible to gain market share. Even though AMD is focusing on high-end products to increase its profit margins, it's strengthening its stake in the budget-processor market to make its processors a standard among the masses. This way, it looks to make customers accustomed to Ryzen and prefer Ryzen over Intel's Core in their next upgrade.
Article continues below advertisement
AMD plans to transition to 7 nm (nanometer) Vega GPUs in 2019. The company plans to optimize these GPUs for machine learning. In the meantime, AMD will invest in improving its GPU software to make its GPUs suitable for machine learning. NVIDIA already has its CUDA software in place, making its GPUs the preferred choice for machine learning.
EPYC
AMD is betting on the data center market for long-term growth. In 2017, Intel and NVIDIA reported 10% and 131% YoY (year-over-year) revenue rises, respectively, in the data center space, but AMD couldn't benefit from this growth because it was still securing design wins for its EPYC server CPU.
Now, AMD has secured orders from cloud companies such as Microsoft (MSFT) Azure and Baidu (BIDU) as well as server OEMs such as Hewlett-Packard Enterprise (HPE). Revenue from these orders will be visible in 2018.
AMD has also designed its 7 nm Zen 2 architecture and will begin sampling a Zen 2–based server platform—code-named Navi—by the end of 2018.
Next, we'll see if AMD's revenue growth will materialize into higher profits.