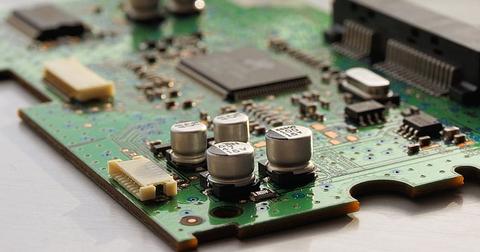 What It Would Take for Qualcomm to Avoid Broadcom's Hostile Takeover
By Puja Tayal

Updated
The Broadcom-Qualcomm deal
On January 31, 2018, Qualcomm (QCOM) reported strong fiscal 1Q18 earnings but poor guidance. Broadcom (AVGO) grabbed this opportunity and raised concerns over Qualcomm's earnings. On the same day, Broadcom revised its fiscal 1Q18 earnings guidance upward, strengthening its case for the hostile takeover.
In November 2017, Broadcom made a $103-billion unsolicited offer to acquire Qualcomm, but the latter rejected the deal on the grounds that the offer significantly devalues it. Broadcom resorted to hostile methods and nominated 11 board directors to replace Qualcomm's board.
The nomination was rejected by Qualcomm in December 2017, setting the stage for a proxy battle. Qualcomm's shareholders are due to vote on Broadcom's nominated board members on March 6, 2018.
If Broadcom's board members form a majority in Qualcomm's board, it would clear the way for the former to acquire the latter. To add more pressure on Qualcomm, Broadcom recently raised its offer price from $70 to $82 to address Qualcomm's argument of the undervalued offer.
Article continues below advertisement
Qualcomm is doing everything to prevent a hostile takeover
Qualcomm is doing everything it can to restore shareholder confidence in the company and encourage them to vote against Broadcom's nominated board. On January 16, 2018, Qualcomm wrote a letter to investors, showing them its future growth potential and its ability to resolve legal disputes.
Qualcomm points to Broadcom's regulatory issues
Broadcom received a second request for additional information from the US FTC (Federal Trade Commission) as part of its antitrust review of Broadcom's proposed $103 billion takeover bid for Qualcomm. Generally, FTC makes a second request if it identifies competition issues.
Qualcomm highlighted this, stating that the deal would face long antitrust review and could take more than 18 months to complete the deal. The company also pointed to an FTC investigation faced by Broadcom for engaging in anticompetitive tactics in negotiations with customers.
Article continues below advertisement
Broadcom addressed all these points raised by Qualcomm. The former stated that the investigation is not related to its wireless business and would have no impact on its takeover proposal for Qualcomm. On the FTC's second request, Broadcom stated that it is confident it can complete the Qualcomm acquisition within 12 months from the signing of the agreement. To show its confidence, Broadcom offered a payout if the deal is rejected by regulators and offered to pay a higher sum if the acquisition takes more than a year.
Qualcomm also stated that the Broadcom deal is opposed by its Chinese (FXI) customers Oppo, Vivo, and Xiaomi as well as by Apple (AAPL).
To make things difficult for Broadcom, in a regulatory filing in December 2017, Qualcomm stated that it would pay if its existing employees are fired due to change in control, which includes the sale and replacement of the majority of its board members. If Broadcom succeeds in acquiring Qualcomm, the former would find it expensive to make significant changes in the organizational structure.
In this series, we'll take an extensive look at the status of acquisitions surrounding Qualcomm. Continue to the next part (below) for a look at its outlook for EPS (earnings per share) in fiscal 2019.