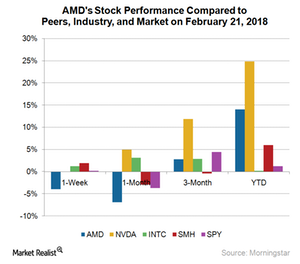 What Do Investors Think about AMD?
By Puja Tayal

Mar. 6 2018, Updated 9:00 a.m. ET
AMD stock outperforms market
In this series, we've seen that Advanced Micro Devices (AMD) is making efforts to reposition itself as a high-performance computing company to gain market share in the PC (personal computer) and server markets.
Moreover, the cryptocurrency boom and hardware security risks in Intel's (INTC) PC and server CPUs (central processing unit) created optimism among analysts and investors that AMD would benefit from these trends. All this saw AMD stock outperform the market and the industry.
YTD (year-to-date), AMD stock has risen 14%, whereas the S&P 500 Index (SPX-INDEX) has risen 1.2% and the VanEck Vectors Semiconductor ETF (SMH) has risen 6%. However, AMD has underperformed rival NVIDIA (NVDA) and its rise of 24.8%.
Article continues below advertisement
AMD's growth took a hit when the entire stock market fell in early February 2018. AMD stock fell 15.8% to $11.57 between February 1 and 5, 2018, whereas the SPX-INDEX fell 6% and SMH fell 8%. AMD rebounded on February 8, 2018, but it's still trading below its levels from January 2018, when it rose 25% to $13.7. On the other hand, NVIDIA has recovered to its January 2018 levels.
Volatility
Looking at AMD's stock price movements, we can see that the stock is more volatile than the market. It has a beta of 1.57, which is higher than Intel's beta of 1.38 but lower than NVIDIA's beta of 1.86. Beta is a measure of volatility, where the market's volatility is measured as 1. A beta of lower than 1 is less volatile, and a beta of higher than 1 is more volatile.
Article continues below advertisement
Market cap
At the end of February 21, 2018, AMD had a market cap of $11.3 billion, 1.8x its projected 2018 revenue of $6.3 billion. Its market cap-to-revenue ratio is lower than Intel's and NVIDIA's ratios of 3.3x and 11.8x, respectively. This shows that investors are pessimistic about AMD's revenue growth potential even though it increased its growth rate from 7% YoY (year-over-year) in 2016 to 25% YoY in 2017.
This pessimism may be due to AMD's earnings being far lower than those of its peers. Its 2017 operating margin stood at 5.6%, whereas Intel's and NVIDIA's operating margins stood at 31% and 37%, respectively.
What do investors think about AMD?
Investors are more interested in earnings than sales. They already priced huge earnings into AMD's stock price when it rose 300% in 2016. The stock is currently trading at 31x its 2018 EPS (earnings per share) estimate, higher than the SPX-INDEX average of 19.9x.
Even with strong earnings growth, AMD stock is not growing significantly. This brings us to the question of whether AMD stock has any upside potential in the short term. We'll answer this question in the next part of the series.