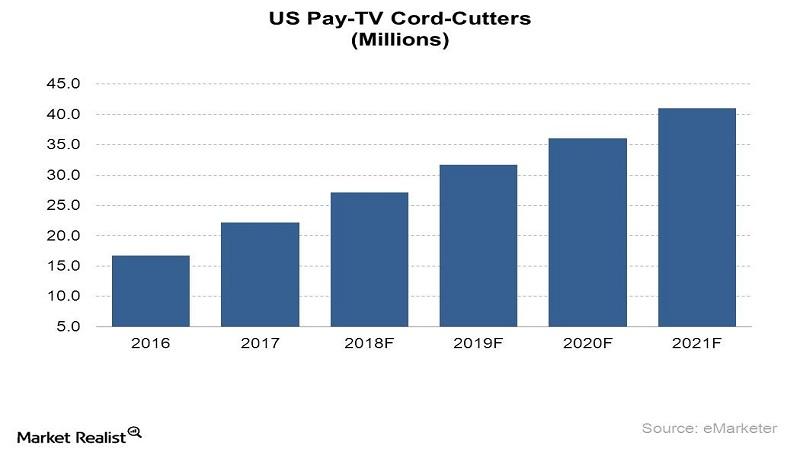 What Comcast Is Eyeing with Its Latest Cloud Move
By Ruchi Gupta

Mar. 2 2018, Updated 9:00 a.m. ET
Creating new revenue sources
There seems to be more than just whittling down costs and simplifying operations in the move by Comcast (CMCSA) to take its cable unit into a deeper relationship with Amazon.com's (AMZN) AWS (Amazon Web Services). In a notable move, Comcast Cable, Comcast's largest operating unit, has selected AWS as its preferred cloud computing provider.
Comcast's cloud expansion has also been driven by the need to create new revenue sources. For example, Comcast's cloud expansion has allowed the company to launch new revenue-generating initiatives as well as to bolster its competition in the entertainment market, which is being disrupted by digital companies like Netflix (NFLX), Facebook (FB), and Alphabet's (GOOGL) Google.
Article continues below advertisement
Growing tension between traditional media and digital worlds
Walt Disney (DIS), a Comcast peer in the television and entertainment business that is also struggling with losses in pay-TV customers, is actually removing the representatives from Facebook and Twitter (TWTR) that it has on its board of directors due to growing conflicts of interest.
The rise of online video services is feeding on the pay-TV market as cord-cutting, or abandoning pay-TV subscriptions, keeps rising in the US. Research firm eMarketer estimates that traditional US pay-TV companies lost 22.2 million customers in 2017—up from 16.7 million losses in 2016. And these losses are only expected to continue, as you can see in the chart above.
Countering digital disruption with new and enhanced offerings
Tapping into cloud computing has enabled Comcast to come up with new products, such as the X1 voice-enabled remote control, which can be used to operate not just television systems but also Wi-Fi networks.
With new products, Comcast can unlock new revenue streams to replace revenue losses in the other parts of the company or make its existing offerings more attractive to counter the growing competitive threat from online video providers.