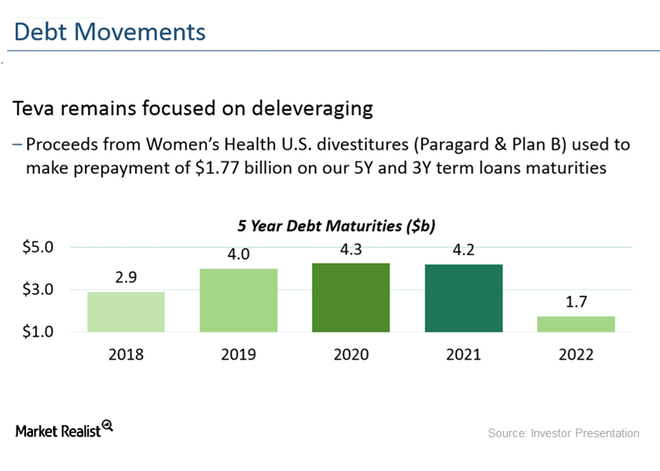 How Wall Street Reacted to Berkshire Hathaway Investment in Teva
By Sarah Collins

Feb. 16 2018, Updated 11:05 a.m. ET
Wall Street reaction to Berkshire Hathaway's investment in Teva Pharmaceuticals
After Berkshire Hathaway (BRK) disclosed its investment of $358 million in Teva Pharmaceuticals (TEVA) on February 14, 2018, in a regulatory filing at the end of 4Q17, Wall Street analysts have had a lot to say about the investment. Teva Pharmaceuticals stock rose ~10.5% during the morning of February 15, 2018, before closing at a rise of ~7.7% on the day. The PowerShares International Dividend Achievers Portfolio (PID) rose ~1.3% on February 15, 2018. PID holds ~4.5% of its total holdings in Teva stock.
Article continues below advertisement
Berkshire Hathaway hasn't provided its rationale for its investment in Teva stock. However, as per Citigroup (C) analyst Liav Abraham, the company's investment in the troubled pharma giant has reaffirmed the views of the analysts who say Teva is on the right track to a successful turnaround. The company has put forward a strong restructuring plan focused on disciplined debt repayments, as shown in the diagram above.
Raymond James & Associates analyst Elliot Wilbur wrote in a note to clients, "Drug costs continue to escalate, Trump is all over prices, and Teva, along with the rest of the generics industry, is part of the solution."
Lawrence Cunningham's view on Berkshire's investment in Teva
As per Lawrence Cunningham, author of Berkshire Beyond Buffett: The Enduring Value of Values, "It's not classical Buffett, given the industry, so it's likely the younger investors. But it's classic Berkshire in being what some would call contrarian, though I would call it opportunistic. They invest capital in great businesses at a reasonable price, when others are negative enough to create those conditions."
Article continues below advertisement
Analysts still advise caution
Teva stock has a "hold" rating from Sanford C. Bernstein analyst Ronnie Gal. As per the analyst, Berkshire's investment in Teva "is a classic value situation. If you think they can make $3.5 billion to $4 billion a year in free cash flow to pay down debt, you buy the stock. If you think it's $2.5 billion to $3 billion, you sell the stock. If interest rates go up, they're in trouble because they have to refinance at higher rates. If rates stay low, they will be able to take down the debt."
However, RBC Capital (RY) analyst Randall Stanicky expressed his apprehensions on the future prospects of Teva Pharmaceuticals despite Buffett's investment in the company. As per Stanicky, "The $3 billion in cost cuts through 2019 are a necessary and effective address to near-term patent cliffs. But they do not solve Teva's growth problem, and we still think the bull case is overestimating medium-term growth given the multiyear period of lack of business-development support."