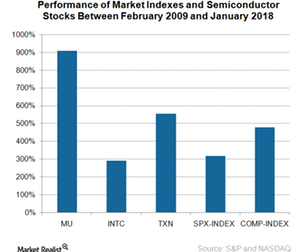 When Could the US Stock Market Crisis End?
By Puja Tayal

Updated
When could the stock market rebound?
In the previous part of this series, we saw that the February 2018 stock market sell-off could be related to investor sentiment rather than fundamentals. Many traders expected a correction in the stock market since it had grown significantly throughout 2017 and in January 2018.
Brad McMillan, chief investment officer at Commonwealth Financial, compared the recent fall in the stock market to February 12, 2016, when the NASDAQ Composite Index (COMP-INDEX) bottomed out at 4,337.51, falling 13.4% since the start of 2016. The index pulled back and rose 58.5% in two years.
McMillan said the February 2016 fall was related to investor confidence rather than fundamentals, and so is the February 2018 fall. History could repeat itself, with the recent sell-off ending soon and the stock market reversing quickly. We'll have to wait and see.
Edward Yardeni, president of Yardeni Research, said the recent sell-off is just a panic attack where a Blue Friday is followed by a Black Monday. The panic attack could subside, and strong fundamentals could help the stock market recover.
Article continues below advertisement
Money managers' comments on the recent stock market sell-off
Jamie Cox, Harris Financial Group's managing partner, said that after a year of stable growth, volatility is back in the stock market. Many money managers have recommended that investors act calmly in volatile trading since the fundamentals of the economy and companies are still strong.
In the 4Q17 earnings season, many companies, including Intel (INTC) and Nvidia (NVDA), reported better-than-expected earnings, indicating strong growth potential in the year ahead.
Price correction
At a House Financial Services Committee hearing, Treasury Secretary Steven Mnuchin said, "I think you've seen a normal market correction, although large." He also said, "I am not overly concerned about the market volatility. I think the fundamentals are quite strong."
Chris Weston, chief market strategist for Australia-based derivatives broker IG, said that although stock price volatility was expected, the recent sell-off was amplified as investors got accustomed to markets that were more or less stable throughout 2017.
University of Maryland economics professor Peter Morici expects the stock market carnage to continue for some time but eventually rebound.
Analysts: Now is the time to buy 
Many analysts are recommending that long-term technology investors grab this opportunity and buy strong companies with future growth potential at a discount. If we look at Intel, Micron Technology (MU), and Texas Instruments (TXN), they bottomed out in February 2009 during the Great Recession. In nine years, they have grown tenfold, fourfold, and sixfold, respectively, since they had strong growth potential.
Throughout this series, we keep talking about strong fundamentals. Next, we'll look at the fundamentals that could drive future growth.