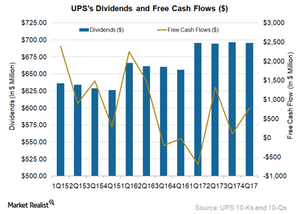 United Parcel Service: Enough Free Cash Flow for Dividends?
By Samuel Prince

Updated
Free cash flow
With the payment of a regular cash dividend of $0.91 per share, United Parcel Service's (UPS) dividend payout ratio was 54%. We calculated payout ratio based on adjusted EPS (earnings per share) of $1.67 in 4Q17. In 3Q17, the company's dividend payout ratio was 57%. The levels of UPS's dividend payout don't seem high, but if the metric is very high, there is a risk of dividend sustainability.
A dividend is an avenue of cash distribution to stock owners. A company can also do the same through stock buybacks. Dividends are paid out of FCF (free cash flow). FCF is arrived at by deducting the capital investment from a company's operating cash flow. Companies use it for a combination of either share repurchases, reinvestment in the business, or dividend payments.
Article continues below advertisement
The fall in free cash flow
United Parcel Service has seen a fall in its FCF on a year-over-year basis. In 2017, it was $1.5 billion, down 58% from $3.5 billion in 2016. In 2015, its FCF was $5.1 billion. Its current level of FCF is sufficient to support the dividend payment.
On a deeper quarter-by-quarter analysis, we see that UPS's FCF was inadequate to cover the dividend levels in five of 12 quarters ending in 4Q17. That happened due to a systematic rise in quarterly capital expenditure as well as thinner operating cash flows quarter-over-quarter.
But when we compare UPS with its archrival FedEx (FDX), we see that UPS has more operating cash flow and free cash flow. FedEx's operating cash flow has declined over the last few years. Its capex (capital expenditure) levels have remained range bound, which has negatively impacted its free cash flow over the last several quarters.
What about ETFs?
United Parcel Service is held by 99 ETFs. Among them, the iShares Transportation Average (IYT) has the highest exposure to the company. UPS's Class B shares make up 6.8% of IYT's holding. The other major companies included in this ETF in the top order of holdings are FedEx at 14.8%, Norfolk Southern (NSC) at 8.9%, and Union Pacific (UNP) at 8.1%.
Next, let's compare UPS's forward dividend yield with its peers.