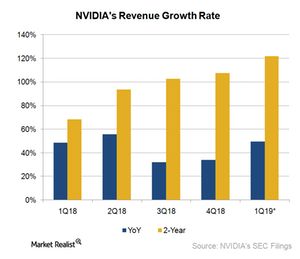 Understanding NVIDIA's Revenue Growth Rate
By Puja Tayal

Feb. 16 2018, Updated 4:00 p.m. ET
A look at NVIDIA's revenue growth rate
In the preceding part of the series, we discussed how NVIDIA's (NVDA) revenue growth is accelerating, thanks to the better-than-expected demand from cryptocurrency miners and data center customers. However, no company can sustain such strong growth for long because competition tends to creep up.
NVIDIA has been enjoying a monopolistic position in the emerging AI (artificial intelligence) market as its GPUs (graphics processing units) have been preferred by almost all cloud companies and data centers. But seeing this AI potential, Advanced Micro Devices (AMD) launched Radeon Instinct, and Intel (INTC) launched its Xeon processors—both targeted at AI—in 2017.
This has raised questions as to whether NVIDIA can continue to accelerate its growth in fiscal 2019 as well. To get an answer to this, it's important to understand revenue growth trends.
Article continues below advertisement
YoY revenue growth
NVIDIA's YoY revenue growth rose in fiscal 3Q17 after it launched its Pascal GPU for gaming and data centers. Its revenue growth hovered around 48% and 56% between fiscal 3Q17 and fiscal 2Q18. However, this growth slowed to 32% and 34% in fiscal 3Q18 and 4Q18, respectively, as it launched its Volta GPU for data centers but did not launch any new gaming GPUs.
This slowdown in growth came as gaming revenue growth almost halved from 50% in fiscal 1Q18 to 29% in fiscal 4Q18. Data center revenue growth almost halved from 186% to 105% during the same time period.
Now, NVIDIA's revenue growth is expected to pick up once again to 50%, due to strong cryptocurrency demand in fiscal 1Q19. If these short-term growth trends subside and no new growth markets emerge, NVIDIA's YoY revenue growth is expected to be between 30% and 35% for the rest of fiscal 2019, until growth from autonomous driving picks up in fiscal 2020.
NVDA's 2-year revenue growth
However, this YoY growth may not show NVIDIA's true growth, because it takes a minimum of two years to build GPU architecture. It also takes time for data center GPUs to reflect in company earnings, as they have to secure design wins.
When we look at the two-year revenue growth rate, it shows what NVIDIA did last year to boost its growth in the current year. It also normalizes the effect of a very strong quarter in one year and a normal quarter in the other year.
For instance, fiscal 3Q16 was a very strong quarter, but fiscal 3Q17 was a normal quarter for NVIDIA in terms of revenue growth.
Hence, based on its two-year revenue growth rate, NVIDIA's growth accelerated from 69% in fiscal 1Q18 to 108% in fiscal 4Q18. This was driven by accelerating growth in the Gaming segment (from 75% to 115%) and in the Data Center segment (from 365% to 525%).
NVIDIA's growth is thus expected to accelerate to 122% in fiscal 1Q19 and continue to grow throughout fiscal 2019.
Continue to the next part for a closer look at NVIDIA's product revenues.