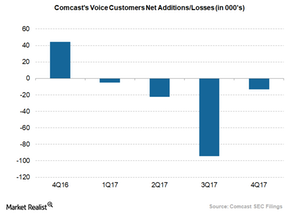 Comcast's Declining Voice Customer Growth
By Sophia Nicholson

Feb. 23 2018, Updated 9:07 a.m. ET
Comcast posted soft voice revenues in 4Q17
Comcast (CMCSA) has been losing its voice customers over the past year, and its voice revenues are thus declining. Its voice unit is part of its cable revenues. It has continued to hurt the cable segment due to a decrease in voice customers. In the quarter ended December 31, 2017, the media and cable giant reported voice revenues of $832 million, a decline of 4.6% from $873 million in 4Q16.
Article continues below advertisement
Voice customer losses
The decline in Comcast's voice revenues is primarily due to a distribution of voice revenue to customers having bundled services and a decrease in the number of residential voice customers. Rising competition from rival service providers as well as a shift in customer preferences to Internet calling over voice calls has also led to a steep fall in voice customers.
In 4Q17, the company lost 13,000 voice customers compared to 44,000 customers gained in 4Q16. However, it was less than the 23,000 customer loss predicted by FactSet. In comparison, wireless carriers AT&T (T) and Sprint (S) have also been posting declines in their voice revenues. In the recently reported fourth quarter, AT&T reported a decrease of 11.4% YoY in legacy voice and data service revenues in its Business Solutions segment. Sprint posted a decline of 38.6% YoY in voice revenues in fiscal 3Q17. Charter Communications' (CHTR) voice revenues fell 18.3% in 4Q17.
Comcast and other providers have been making efforts to revive its voice business, offering attractive bundling packages to boost voice revenues. Comcast's launch of its Xfinity wireless service has the potential to increase voice revenues. The company has also launched a cloud-based phone service, VoiceEdge Select, to enable both standard and advanced calls, which will enhance its voice service portfolio.