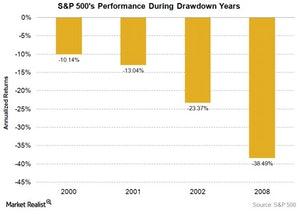 What the US Stock Market's Past Tells Us about Its Future
By IndexIQ

Updated
IndexIQ
The past never perfectly reflects the future, but it does leave hints. Markets have tended to move in cycles, from periods of extreme skepticism to periods of extreme conviction. The problem for investors is that it's never really possible to know where you are on the timeline. So, you know things will change; you just don't know when.
Article continues below advertisement
Market Realist
Market cycles
The stock market and uncertainty go hand-in-hand. The stock market performance has historically followed a cyclical trend. There were periods of drawdowns and periods when the market bounced back. In this series, we'll look at the period from 2000–2015. The US stock market delivered a negative performance in four of those years—2000, 2001, 2002, and 2008—as you can see in the chart below. The market bounced back and delivered 11.1% on average from 2003–2007.
After the 2008 recession, the market bounced back again, returning ~13% on average from 2009–2015. That trend was also seen in other markets. Emerging markets (EEM), which hold a correlation of 0.44 with the US stock market (IVV) for 2000–2015, also suffered during the S&P 500 drawdown years. The positive correlation of 0.44 indicates that both markets move in tandem. Emerging markets recorded an average loss of 23.9%, while the S&P 500 (SPY) (SPX-INDEX) recorded an average loss of 21.3% during the drawdown years.
Market trend now
The US presidential election in November 2016 brought with it a new level of uncertainty. Investors were skeptical of seeing Donald Trump hold the key to the White House. The current state of economy, the stock market performance, and job numbers speak a different story now. Many investors and economists believed a Trump presidency would be advantageous to the US economy. The stock market (VOO) has shown staggering growth since the election, continuing the long bull run since 2009, aided by government's promises of tax cuts, lighter regulations, a better job market, and higher infrastructure spending.
Let's look at this in more detail in the next part.