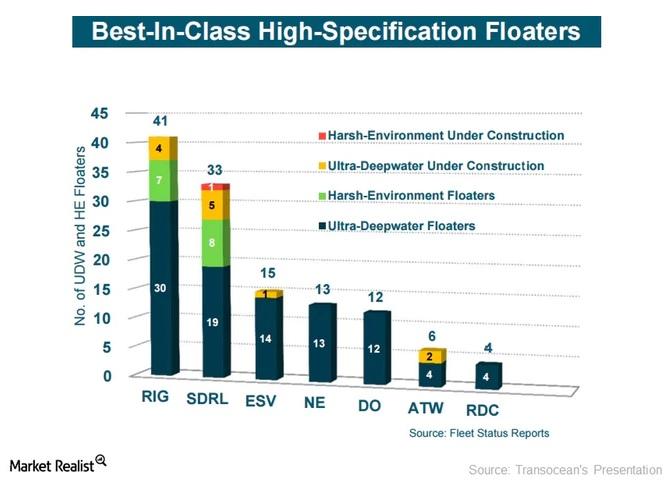 Transocean's Fleet: Rig Additions and Subtractions in 2017
By Sue Goodridge

Mar. 5 2018, Updated 7:30 a.m. ET
Transocean's fleet
Since the downturn started, Transocean's (RIG) fleet has transformed. In this part, we'll discuss Transocean's fleet additions and subtractions in 2017.
Article continues below advertisement
Additions
In 2017, Transocean added two ultra-deepwater newbuild drillships—Deepwater Pontus and Deepwater Poseidon—to its fleet. Both of the rigs are among the most technically capable rigs in the world. The rigs are on a ten-year contract with Shell (RDS.A).
Enhancements
Transocean upgraded Discover India by adding a second Annuflex BOP and an acoustic BOP control for enhanced redundancy.
Article continues below advertisement
Songa acquisition
Transocean acquired Songa Offshore, which added four new contracted harsh-environment high specification semi-submersibles to its fleet.
Jack-up divestiture
In 2017, Transocean sold off 15 jack-up rigs to Borr Drilling. The transaction left Transocean with only floaters in its fleet.
Article continues below advertisement
Rig retirement
Transocean announced the retirement of nine old assets, which included five-ultra deepwater floaters. According to Transocean, the assets wouldn't be competitive in the foreseeable future. Since the beginning of the downturn, Transocean's total number of floaters retired is 39.
Total fleet
After numerous additions and subtractions, Transocean's fleet as of February 19, 2018, stands at 49 floaters. The fleet includes two newbuilds under construction. For Transocean, 84% of the fleet is ultra-deepwater and harsh environment assets. Seadrill Partners (SDLP) also doesn't have a single jack-up rig in its fleet. Seadrill operates semisubmersibles and drillships. Diamond Offshore Drilling (DO) operates one jack-up rig along with other floaters. Diamond Offshore Drilling operates 19 rigs—14 semisubmersibles, four drillships, and one jack-up rig. Ensco (ESV) has the highest number of jack-up rigs among its peers. Rowan Companies (RDC) has a fleet of 26 offshore drilling rigs—22 jack-up rigs and four ultra-deepwater drillships.