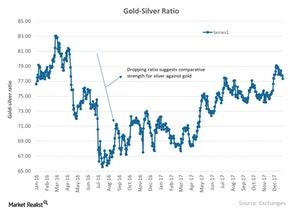 The Trend Analysis of the Gold–Silver Ratio in January 2018
By Meera Shawn

Feb. 2 2018, Updated 7:37 a.m. ET
Gold and silver spread
When considering the performance of precious metals and precious metals mining companies, it's crucial to add the perspective of relative performance of these metals. 
Gold and silver had a great start to 2018, and they have risen about 3.5% and 1.9%, respectively, year-to-date (or YTD). This also reflected on the SPDR Gold Shares ETF (GLD) and the iShares Silver Funds ETF (SLV), which rose 3.6% and 2.6%, respectively, on a YTD basis.
Gold dominates the precious metals because its price direction often causes the other metals to follow. So we keep gold as the base when calculating the relative performance of silver, platinum, and palladium. In this article, we'll focus on the gold-silver ratio.
Article continues below advertisement
On January 26, silver was trading at $17.40 per ounce, while gold was trading at $1,351.60 per ounce. This gives a gold-silver ratio of 77.4, which indicates that it takes ~77 ounces of silver to buy a single ounce of gold. 
The RSI (relative strength index) level of the gold-silver spread was 55 on January 26. An RSI below 30 indicates a possible increase in price, while an RSI above 70 shows a possible downturn.
Technical analysis
The graph above shows that the ratio has been increasing steadily during the last year. An increasing ratio suggests comparative strength for gold against silver, as it now requires more ounces of silver to buy a single ounce of gold.
Mining stocks that are also impacted by the interplay between gold and silver, as well as the overall mining industry, include First Majestic Silver (AG), Royal Gold (RGLD), Alamos Gold (AGI), and New Gold (NGD).
In the next part, we'll continue this discussion by looking at the gold-palladium spread.