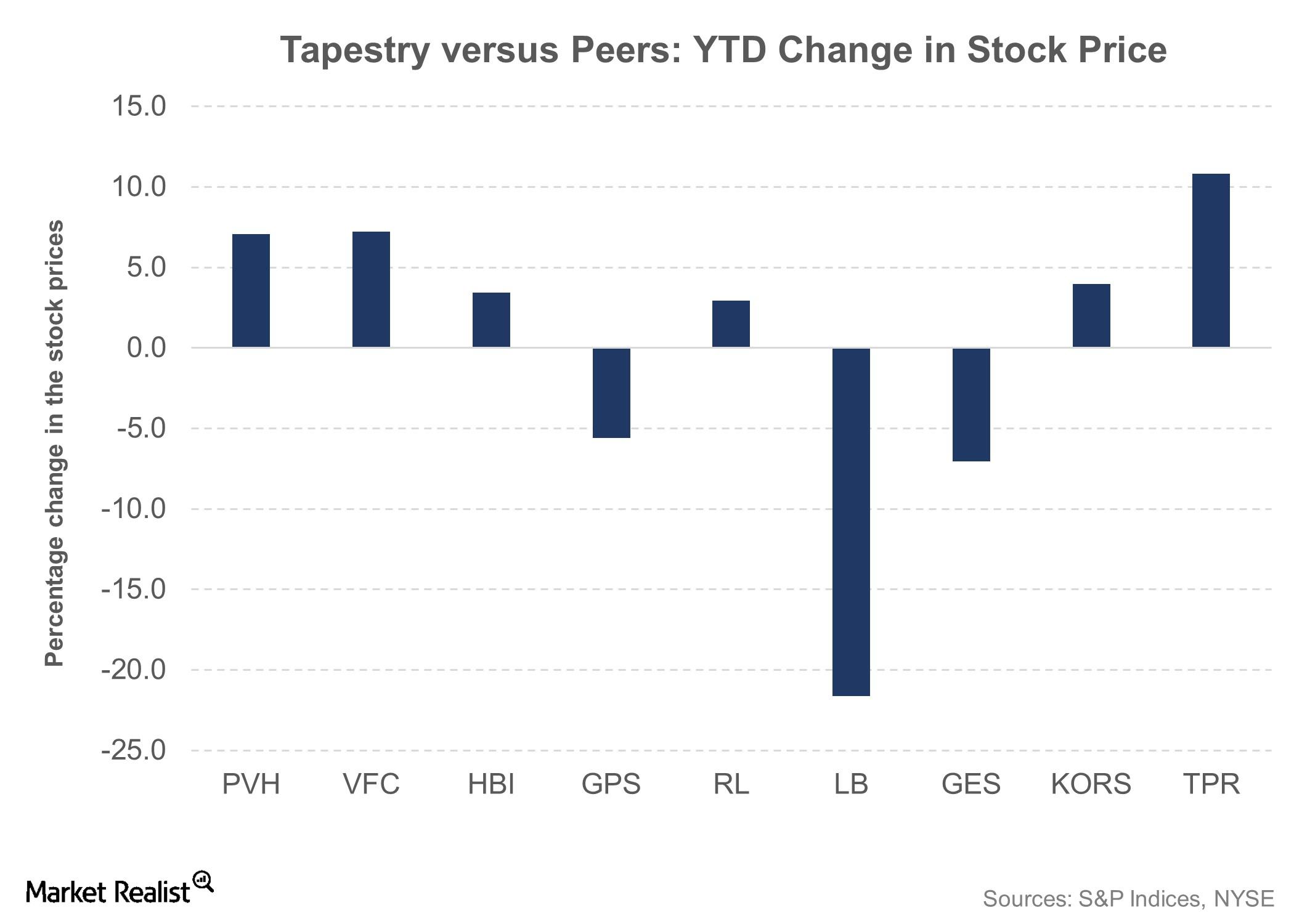 Tapestry Stock Surges after Strong Fiscal 2Q18 Results
Tapestry's stock market performance
As we've discussed throughout this six-part series, Tapestry (TPR) delivered better-than-expected results in fiscal 2Q18. It also raised its full-year earnings guidance. As a result, the company's stock rose 9% after its earnings release on February 6, 2018.
The company is now sitting at a YTD (year-to-date) rise of ~11%. It has outperformed the seven-company S&P 500 Apparel and Accessories Index, which has risen 5.6% YTD, and the S&P 500 Index, which has risen 0.8% YTD.
Article continues below advertisement
Tapestry also outdid the S&P Apparel and Accessories Index in 2017, rising 26% during the year. The company's recent transformation initiatives and acquisition strategy seem to have paid off well. It's witnessed a revival in its brand image, which has translated into higher sales and earnings and boosted its stock price.
Comparing valuations
Tapestry is currently trading at a one-year forward PE (price-to-earnings) ratio of 18x, in-line with its three-year average PE of 18.1x and below its 52-week high of 21x. The company is, however, slightly expensive compared to its close competitor Michael Kors. KORS is currently trading at a PE of 16.5x. A closer look reveals that Tapestry's valuations are more appealing, however, as the company has better earnings potential than its rival.
Tapestry's EPS (earnings per share) are expected to rise 11.8% over the next 12 months, while Michael Kors's EPS are projected to fall 12.1% during the same period.
Those looking to invest in TPR through ETFs may want to invest in the WisdomTree MidCap Dividend ETF (DON). TPR has a weight of ~1.1% in DON.
Read on to learn about analysts' recent actions on Tapestry.