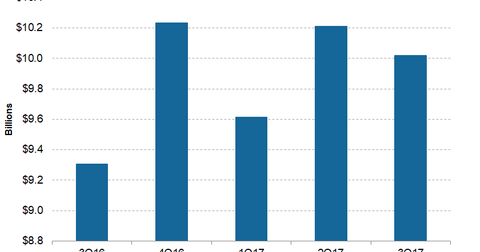 T-Mobile: Still Focused on Expanding Distribution Footprint
By Ambrish Shah

Updated
T-Mobile's distribution strategy
T-Mobile (TMUS), the fastest-growing and third-largest wireless service provider in the United States, is expanding its distribution footprint as a means to drive growth in the untapped US markets. Expansion of the distribution footprint means a potential customer upside.
T-Mobile had planned to open 3,000 new distribution stores in 2017, which included 1,500 T-Mobile stores and 1,500 MetroPCS stores. On December 6, 2017, T-Mobile's management said the company had expanded its distribution with 1,300 new T-Mobile stores year-to-date.
Management stated, "We'll probably come in in the mid to high 1,400 against that goal, which brings us to more than 500 new cities this year, generating for next year's growth production most likely hundreds of thousands of new activations."
Article continues below advertisement
T-Mobile's revenue trend
T-Mobile believes that the expansion of distribution could help it add new customers and subsequently boost its total revenue. In 3Q17, T-Mobile reported total revenue of $10 billion compared to $9.3 billion in 3Q16. Its top-line growth will depend largely on its ability to take market share from other major US wireless service providers, including AT&T (T), Verizon (VZ), and Sprint (S).
Now let's take a look at the 3Q17 growth in wireless revenue of these other providers. Verizon's wireless revenue decreased 2.4% YoY (year-over-year) to $21.6 billion. AT&T's wireless revenue from its combined domestic operations decreased 4.2% YoY to $17.4 billion. Sprint's revenue from its wireless component decreased 3.1% YoY to $7.6 billion.