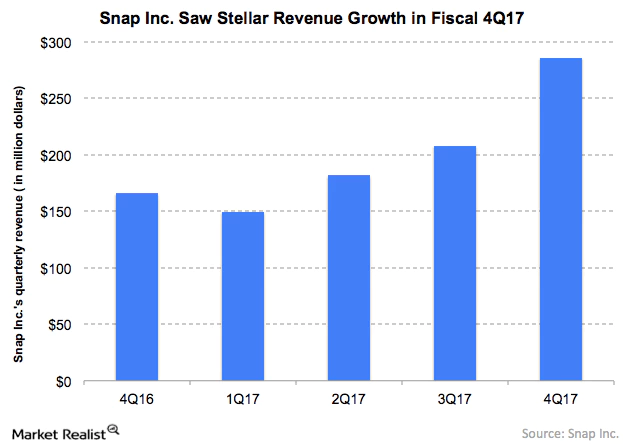 Snap Stock Rose on Earnings Beat
Snap stock rose 37% last week
Snap (SNAP) stock rose 37% in the week ended February 9, 2018, to close at $18.80. Snap is now trading 67% above its 52-week low of $11.28 and 36% below its 52-week high of $29.44. The stock fell 40% in 2017 and has generated returns of 33% in the trailing one-month period.
Snap announced its 4Q17 results last week and reported revenue of $285.7 million, a rise of 72% YoY (year-over-year) and 13% above the average analyst estimate of $253 million. Revenue growth was driven by a significant rise in users and advertising. The company added 8.9 million DAUs (daily active users) in 4Q17, which was its highest addition since 3Q16. The DAUs for Snap are 187 million.
Snap reported non-GAAP (generally accepted accounting principles) EPS (earnings per share) of -$0.28 with a net loss of $350 million. That was lower than analysts' estimate of -$0.33 per share, or a net loss of $350 million.
For fiscal 2017, Snap reported a net loss of $3.5 billion compared to revenue of $826 million. Analysts expect Snap's users to reach 200 million by fiscal 2018, which means it will have 100 million users less than Facebook's (FB) Instagram.
Article continues below advertisement
Advertising revenue
Advertising revenue per user rose 46% YoY to $1.53, which was far above analysts' estimate of $1.36. The rise in advertising revenue per user was attributed to the holiday season when customers generally tend to spend more.
Gross margins for Snap rose significantly from 8% in 4Q16 to 36% in 4Q17. CEO (chief executive officer) Evan Spiegel has attributed the following to revenue growth in the quarter ended December 2017: a redesign of the Snapchat application; providing an improved user experience for Android (GOOG) (GOOGL) users; and an automated auction for advertisers.
Snap is now trading at $18.80, which is above its IPO (initial public offering) price of $17 for the first time since July 2017.