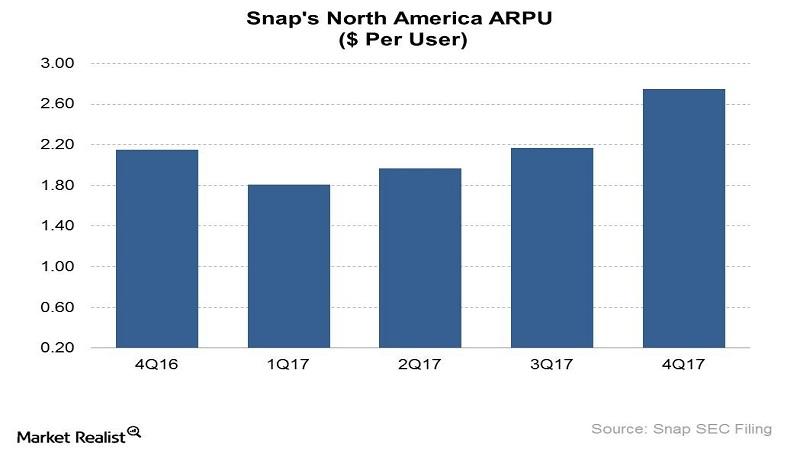 Snap and the Competition in Average Revenue Per User
Snap's ARPU grew 46% YoY
Snap (SNAP) reported worldwide ARPU (average revenue per user) of $1.53 in 4Q17, representing an increase of 46% YoY (year-over-year). Snap's worldwide ARPU was $1.17 in 3Q17, indicating a growth of 39.3% YoY. That shows that the company's ARPU grew between 3Q17 and 4Q17. ARPU measures the financial value of a social media company's subscriber.
Facebook's (FB) worldwide ARPU was $6.18 in 4Q17, representing a growth of 28% YoY. Twitter (TWTR) doesn't break out its ARPU metrics, but working backward with revenue and audience size in 4Q17, its worldwide ARPU would be $2.22, a decrease of 1.3% YoY.
In 4Q17, Snap once again outclassed the competition in terms of worldwide ARPU growth.
Article continues below advertisement
Snap has most valuable users in North America
Snap and Facebook have their most valuable users in North America, with ARPU of $2.75 and $26.76, respectively, in 4Q17.
App redesign supported ARPU improvement
Snap said that growth in its ARPU in 4Q17 was supported by the new design it adopted for its Snapchat app (application). Last year, Snap started rolling out a significantly redesigned Snapchat, stating that it was making the move to make the app easier to understand and use. The redesigned Snapchat separated social from media content, creating an environment that encourages user interaction.
Facebook has also made design changes to its flagship app. For Snap and Facebook, app redesigns are expected to boost user attraction and retention as well as draw more ad spending. The recent moves by Amazon (AMZN) and Verizon (VZ) seem to promise tough competition ahead for digital advertising dollars.