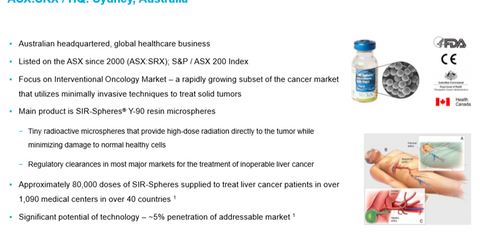 Sirtex Medical: Varian Medical Systems' Latest Acquisition
By Sarah Collins

Updated
Overview of Sirtex Medical
Sirtex Medical Systems is an Australia-based life sciences company with a presence around the globe. The company is focused on interventional oncology therapies and is a global leader in radioembolization.
Radioembolization is a minimally invasive therapy for the treatment of liver cancer. According to WebMD, radioembolization is "a cancer treatment in which radioactive particles are delivered to a tumor through the bloodstream. The particles lodge in the tumor and emit radiation that kills cancer cells."
Article continues below advertisement
Sirtex Medical's annual sales for the period that ended on June 30, 2017, came in at 234 million Australian dollars. The company has manufacturing facilities in the United States, Germany, and Singapore. Sirtex's sales and distribution operations in Asia, Europe, and the United States are maintained by ~300 employees.
Sirtex Medical Limited has been listed on the Australian Securities Exchange since 2000 and is part of the S&P/ASX 200 Index.
Sirtex's flagship product
SIR-Spheres Y-90 resin microspheres are the company's flagship product. They're a targeted internal radiation therapy for some liver cancers. Since the therapy's launch, the company has supplied ~80,000 doses of the product for the treatment of patients with liver cancer at more than 1,090 medical centers in over 40 countries.
Sirtex's SIR-Spheres Y-90 resin microspheres have PMA (premarket approval) from the FDA, Australia's TGA (Therapeutic Goods Administration), and CE Mark in Europe.
With the acquisition of Sirtex Medical, Varian Medical Systems expects to be able to expand its market share and be in a better position to compete with its major competitors Accuray (ARAY), GE Healthcare (GE), and Boston Scientific (BSX) in the oncology technology market.
Notably, the Health Care Select Sector SPDR ETF (XLV) has ~0.34% of its total holdings in VAR stock.
Next, let's discuss the rationale behind Varian Medical Systems' acquisition of Sirtex.