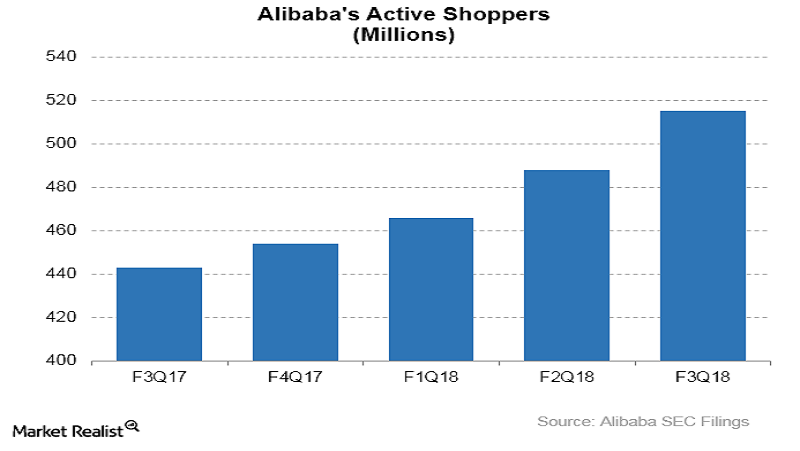 Shedding Light on Alibaba's Shopper Metrics
By Neha Gupta

Feb. 16 2018, Updated 7:30 a.m. ET
Alibaba's 515 million shoppers in China
In what seems to signal defiance to the coalition of opposition that JD.com (JD), Tencent (TCEHY), and Wal-Mart Stores (WMT) have tried to build in China, Alibaba (BABA) grew its customer base in China at the fastest rate in fiscal 3Q18 (December quarter), when compared with the same quarter one year ago.
Alibaba finished fiscal 3Q18 with 515 million active shoppers in China, which represents an increase of 16% YoY (year-over-year). An active shopper for Alibaba is a retail customer who purchased an item on its e-commerce platforms within the past 12 months.
Article continues below advertisement
Alibaba added new shoppers more rapidly in fiscal 3Q18 than peers
Alibaba closed fiscal 2Q18, the previous quarter, with 488 million active shoppers in China, which represents an increase of 11% YoY. Alibaba's active shoppers in China rose 9.0% YoY in fiscal 3Q17.
The 16% increase recorded in its latest quarter thus indicates accelerated growth both quarter-over-quarter and year-over-year.
China retail sales jumped 47%
Alibaba also extracted more value from its Chinese shoppers in the latest quarter than it did one year ago. Its average revenue per active shopper in China was $45 in fiscal 3Q18, compared with $35 in fiscal 3Q17.
Alibaba's China commerce retail sales totaled $9.2 billion in fiscal 3Q18, which represents an increase of 47% YoY. China retail sales represented 72% of the company's overall revenues during Alibaba's latest quarter.
China is Alibaba's largest e-commerce market, comparable to what North America is to Amazon.com (AMZN).
Notably, Alibaba revealed that it had 580 million MAUs (monthly active mobile users) at the end of fiscal 3Q18—almost one-quarter of Facebook's (FB) global MAUs at the end of its corresponding quarter.
Now let's take a key look at Alibaba's logistics business performance in fiscal 3Q18.