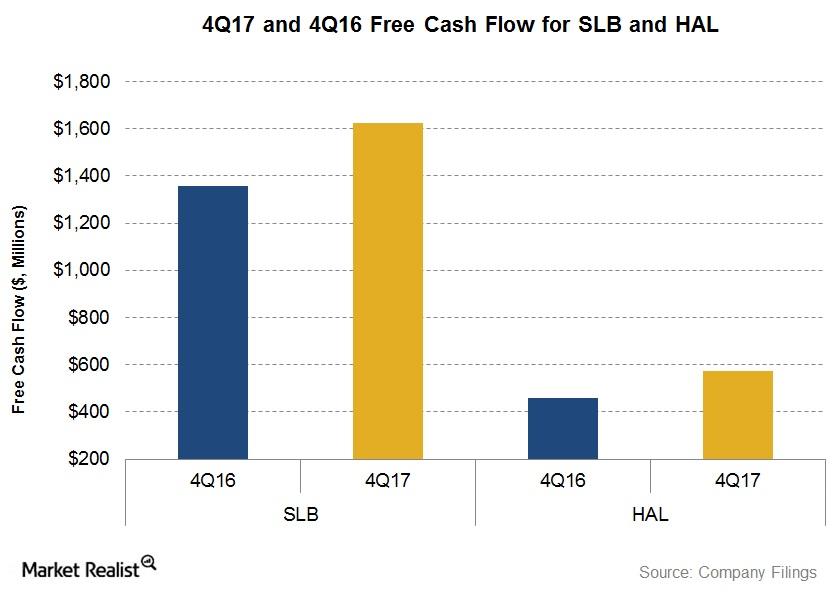 Schlumberger versus Halliburton: Analyzing Free Cash Flow in 4Q17
By Alex Chamberlin

Feb. 7 2018, Updated 10:31 a.m. ET
Comparing free cash flow growth
In the final article of this series, we'll look into the free cash flow (or FCF) growth of Schlumberger (SLB) and Halliburton (HAL). Free cash flow is defined as cash flow from operations (or CFO) minus capital expenditures (or capex).
Article continues below advertisement
SLB's 4Q17 FCF was higher
Schlumberger (SLB) generated free cash flow of $1.6 billion in 4Q17. This FCF figures excludes SLB's capex on SPM (Schlumberger Production Management) investments and capitalized cost for multiclient seismic data. Schlumberger's 4Q17 FCF increased 20.0% from ~$1.4 billion FCF in 4Q16. 
SLB's CFO increased 12.0% in 4Q17 over 4Q16, led primarily by higher revenues during the same period. Lower capex, as we discussed in the previous article, coupled with the increase in CFO led to the higher FCF in 4Q17.
SLB comprises 6.4% of the Vanguard Energy ETF (VDE). VDE increased 3.0% in the past year versus a 9.0% fall in SLB's stock price during the same period. SPY comprises 0.44% of the SPDR S&P 500 ETF (SPY). The S&P 500 Index has increased 25.0% in the past year.
HAL's FCF increased in 4Q17
Halliburton recorded $572.0 million in free cash flow in 4Q17, a 25.0% increase compared to 4Q16 when HAL's FCF was $459.0 million. Led by a sharp revenue rise, HAL's CFO increased steeply in 4Q17 over 4Q16. Although its capex increased in 4Q17, it could not offset the rise in CFO, leading to a 25.0% free cash flow increase in 4Q17.
You can learn more about the OFS industry in The Oilfield Equipment and Services Industry: A Primer.