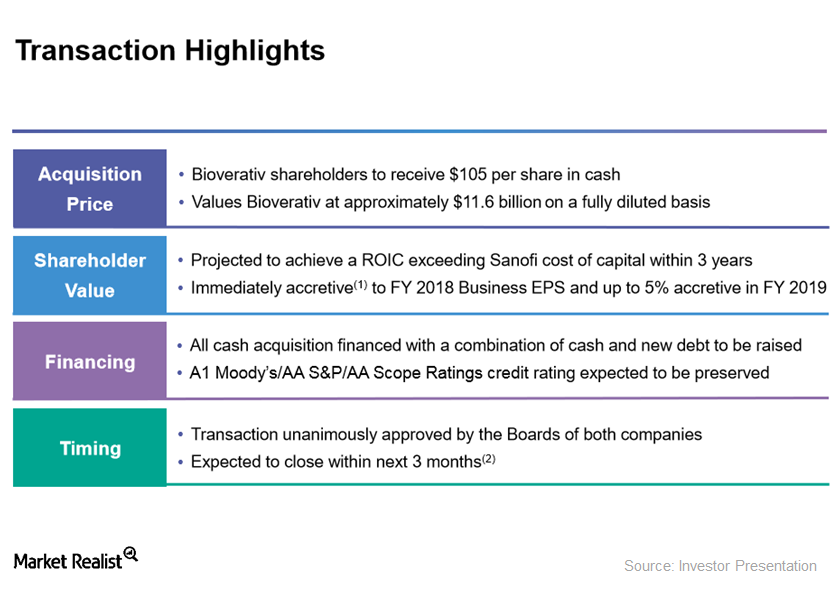 Sanofi's $11.6 Billion Bioverativ Acquisition: Highlights
Bioverativ acquisition announcement
On January 22, 2018, Sanofi (SNY) announced that it had entered into an agreement with Bioverativ (BIVV) to acquire all of its outstanding shares for $105 per share in cash.
The deal amounted to a total value of $11.6 billion on a fully diluted basis. The acquisition price of $105 per share represented a premium of 64% to Bioverativ stock's closing price on January 19, 2018.
Bioverativ is a biopharmaceutical company that's focused on providing therapies for hemophilia and other rare blood disorders. According to WebMD, "Hemophilia refers to a group of inherited disorders that cause abnormal bleeding. The bleeding occurs because part of the blood—the fluid part called plasma—has too little of a protein that helps blood clot."
The boards of directors of Sanofi and Bioverativ unanimously approved the acquisition.
Article continues below advertisement
On January 22, 2018, SNY stock registered a fall of 2.4% during the premarket trading session and fell ~3.1% during the day. However, BIVV stock registered a record high of $104.3 and was up ~62.3% on the day. The BLDRS Developed Markets 100 ADR Index Fund (ADRD) registered a rise of ~0.60% on January 22, 2018. ADRD holds ~2.2% of its total portfolio in SNY stock.
Financial highlights of the deal
Sanofi plans to finance the deal partly through cash in hand and partly by raising new debt. The acquisition is expected to close within the next three months.
For the deal, Lazard is the financial adviser to Sanofi, while Guggenheim Securities and J.P. Morgan Securities LLC are the financial advisers to Bioverativ. The legal counsel for Sanofi is Weil, Gotshal & Manges LLP. Paul, Weiss, Rifkind, Wharton & Garrison LLP is the legal counsel for Bioverativ.
Sanofi's Bioverativ acquisition is its largest deal in the last seven years after its acquisition of Genzyme in 2011. The company has successfully made an acquisition after two failed attempts: Medivation in 2016 and Actelion in 2017. Medivation was acquired by Pfizer (PFE), and Actelion was acquired by Johnson & Johnson (JNJ).
On January 29, 2018, Sanofi announced another acquisition—that of Ablynx (ABLX). We'll discuss the acquisition in detail later on in this series.
Next, let's take a look at Bioverativ's business profile.