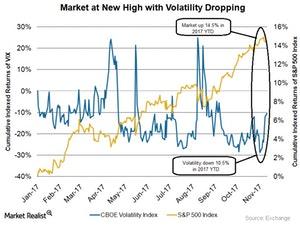 What Role Volatility Plays in the Market
By IndexIQ

Updated
IndexIQ
Volatility is something else to think about. As the market has moved up, volatility has moved down. But, that's unlikely to persist either. While volatility (price fluctuations) and drawdown risk (loss of principal) aren't the same thing, dramatic price movements often lead investors to trade their portfolios at what, in retrospect, will turn out to have been an inopportune time. By managing volatility, alternative funds can make it easier and more palatable to stay the course.
Article continues below advertisement
Market Realist
Market volatility
Volatility plays a vital role in tracking market trends. It measures market risks. The volatility of the US stock market, or the S&P 500 (SPY) (SPX-INDEX), is measured by the CBOE Volatility Index (or VIX) (VXX). Volatility has historically picked up when the economy is sluggish and the stock market is deteriorating.
While the stock market (IVV) (VOO) is rallying this year, the volatility index is at its low. The VIX Index touched a historic low level of $9.14 on November 3, 2017. Year-to-date,1the VIX Index has fallen 10.5%, while the S&P 500 Index has risen 14.5%. As we saw in the previous parts of this series, the stock market rally is because of expectations of improved economic conditions in 2017 under the Trump administration. That's driving the volatility index lower.
The first half of 2017 saw the index fall 13.2%, while the market rose 7.6% in the same period. Many fund managers expect the market to rally further. These positive expectations are pulling down the VIX Index since it rises when there is fear in the market. Many asset managers have warned the market about low volatility. In an interview with CNBC, Deutsche Bank CEO (chief executive officer) John Cryan said, "Actual volatility has been much higher, it just hasn't been reflected in those prices. The price of volatility is very low but volatility is actually higher."
Alternative investments
As we discussed in the previous part, the primary function of alternatives is to protect against
market volatility, while yield characteristics are not commonly key objectives of alternatives.
It's always wise to be cautious when considering investment options since market headwinds could intimidate returns offered by traditional investments. Allocating assets over a wide variety of asset classes can help compensate the loss from one asset with the gain in another.
Of course, no one really likes the person who wanders down the beach selling umbrellas on a beautiful, sunny morning, saying, "Yes, but one day, it will rain again." The truth is that a sunny day might not be a good time to be a seller of umbrellas, but it's often a good time to be a buyer.