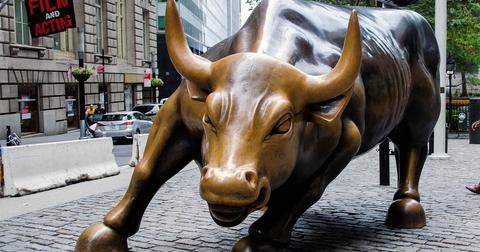 The Rise and Fall of the US Stock Market
By Puja Tayal

Updated
US stock market movement
Last year was a strong year for investors as the US stock market, especially the technology sector, witnessed a strong upside. But after that strong growth came a sudden fallout.
The S&P 500 index reached its peak of 2,872.9 on January 26, 2018, rising 54% from the previous bottom on February 12, 2016, and 320% from the 2009 recession. However, a carnage followed, with the index falling 8.5% in just eight days from February 1–8, 2018.
Article continues below advertisement
Similarly, the NASDAQ Composite index (NDX-INDEX), which has a large number of tech (technology) stocks, fell 8.2% in February 2018 after rising 480% over the last nine years from March 6, 2009, to January 26, 2018. The biggest fallout came on February 5, 2018, when the stock market fell despite strong earnings and fundamentals.
The exact cause of the sell-off in the market wasn't clearly known, but analysts said the fallout was a correction from the strong growth in 2017. Analysts have reported other possible reasons for the fallout, which we'll look at in the next part of this series.
US stock market carnage has contagion effect on other markets
The fall of the US stock market spread to other major stock markets as investors around the globe panicked and sold off their stocks. On February 6, 2018, the stock markets in Japan, Australia, South Korea, China, and Europe fell significantly.
This massive sell-off left traders confused about whether it was a correction to the climbing market or an end to multi-year growth.
Impact on tech stocks
Since the fallout wasn't because of weak fundamentals, analysts believe the market will rebound. The first rebound was seen on February 9, 2018, when the S&P 500 index and the NASDAQ Composite index rose 1.8% and 2.1%, respectively. The rebound was led by semiconductor, technology, and bank stocks.
On February 9, 2018, the SPDR S&P 500 rose 0.8%, and the PowerShares QQQ ETF (QQQ), the tech fund, rose 0.9%. The VanEck Vectors Semiconductor ETF (SMH) rose 2.7%. Among semiconductor stocks, Intel (INTC) and Nvidia (NVDA) reported strong growth of 2.8% and 6.7%, respectively. NVDA stock surged after it reported strong fiscal 4Q18 earnings.
In this series, we'll look at the cause and effect of the recent stock market carnage on the tech sector and if investors should worry about this fallout.