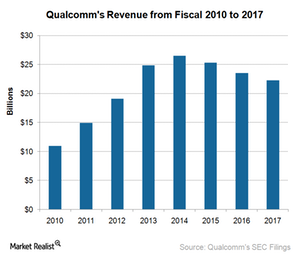 Qualcomm's Earnings Take a Hit from Legal Issues
By Puja Tayal

Dec. 4 2020, Updated 10:43 a.m. ET
Will troubles ever end for Qualcomm?
Qualcomm (QCOM), a name that powers more than 90% of smartphones in the world, has been going through troubled times for more than three years. But that doesn't seem to deter the company from investing in future technologies and exploiting growth opportunities.
As the smartphone industry faces a slowdown in growth, Qualcomm has been in the middle of several legal and shareholder battles. Its licensing and other business practices have come under scrutiny by various countries' regulators as well as some of its major customers.
Article continues below advertisement
Its latest legal issue is a $1.2 billion antitrust fine from the European Union (VGK) for allegedly misusing its dominant position to fend off competition in the market. The fine comes at a time when Qualcomm is in a global legal battle with its key customer Apple (AAPL) over a licensing dispute. Apple has halted royalty payments until the dispute is resolved, reducing Qualcomm's 2017 annual revenue by more than $2 billion. Despite these disputes, Qualcomm continues to supply baseband chips for some of Apple's products.
Impact on earnings
Qualcomm has also faced several fines from China, South Korea, and Taiwan in the past two years. These continuing disputes have weighed on Qualcomm's earnings. Its revenue has declined 16%, from $26.5 billion in fiscal 2014 to $22.3 billion in fiscal 2017.
Broadcom's (AVGO) $105 billion hostile takeover bid for Qualcomm brought the latter's troubles into the limelight. That's putting pressure on Qualcomm's management to reassure shareholders that it can manage all these issues and still grow in the future.
On January 16, 2018, Qualcomm issued a letter to investors, assuring them of its potential to deliver strong earnings in the future. That saw Qualcomm stock rise 4.4% in just one day.
Spectre
While all these major headwinds are related to Qualcomm's business practices, one headwind was found at the product level. On January 2, 2018, The Register reported that all ARM processor chip companies, including Intel (INTC), International Business Machines (IBM), and Advanced Micro Devices (AMD), were exposed to design flaws known as Spectre.
On January 6, 2018, Qualcomm confirmed that some of its ARM-based Snapdragon SoCs (systems-on-chip) and Centriq server processors were vulnerable to Meltdown or Spectre. That pulled the stock down 1.8%.
However, Qualcomm's president Cristiano Amon confirmed that the mobile industry wouldn't be significantly impacted by the design flaw and wouldn't face any major slowdown in the chip's performance.
In this series, we'll see whether Qualcomm's legal issues will unwind or become further tangled in 2018.