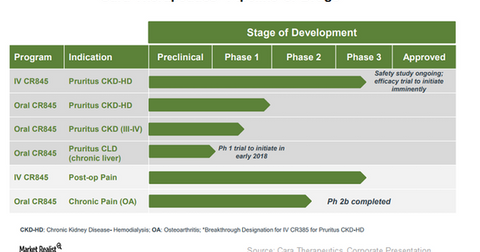 A Look at Cara Therapeutics' Intravenous CR845
By Kenneth Smith

Updated
Intravenous CR845 for pruritus
Pruritus is associated with chronic conditions such as chronic kidney disease (or CKD), atopic dermatitis, eczema, cholestatic liver disease, and psoriasis. Based on CR845's effectiveness on the peripheral nervous system and immune cells, as well as its anti-pruritic potency, Cara Therapeutics (CARA) believes the drug has the potential to treat pruritus across multiple medical conditions.
In June 2016, Cara Therapeutics initiated Phase 2 and 3 adaptive design trials of IV (intravenous) CR845 in dialysis patients with moderate-to-severe uremic pruritus. In March 2017, the company released data from the Phase 2 trial. The primary endpoint of the trial was changes in mean worst-itch scores in Week 8. In comparison to patients receiving a placebo, patients who received IV CR845 reported a 68% greater reduction from the baseline of worst-itch scores. The secondary endpoint was focused on quality-of-life measures associated with pruritus, using Skindex-10 scores. Lower scores on this scale mean a higher quality of life. Patients witnessed a 100% greater reduction from the baseline of average Skindex-10 scores at Week 8.
Article continues below advertisement
Breakthrough therapy designation for IV CR845
In June 2017, the FDA designated IV CR845 as a breakthrough therapy for the treatment of moderate-to-severe uremic pruritus in patients with CKD undergoing hemodialysis.
Cara Therapeutics announced the initiation of the first pivotal randomized, double-blind, placebo-controlled Phase 3 trial of IV CR845 on January 31, 2018. As was the case in the Phase 2 study, the primary endpoint of the trial is improvement from the baseline of worst-itch intensity at Week 12, while the secondary endpoints are changes in quality of life as assessed by the Skindex-10 scale, as well as worst-itch scores at Week 12.
The company is also conducting a 52-week Phase 3 study of IV CR845 in patients with CKD-associated pruritus undergoing hemodialysis. Drugs competing with oral CR845 include Pfizer's (PFE) Celebrex, Allergan- (AGN) and Nucynta-marketed Kadian, an extended-release formulation of tapentadol marketed by Depomed (DEPO), and OxyContin, a controlled-release oxycodone hydrochloride tablet marketed by Purdue Pharma.
Cara Therapeutics makes up ~0.06% of the iShares NASDAQ Biotechnology ETF's (IBB) total portfolio holdings. In the next part of this series, we'll look at Cara Therapeutics' collaborations.