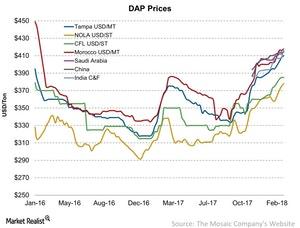 Phosphate Prices Continued to Strengthen Last Week
By Adam Jones

Feb. 27 2018, Updated 12:35 p.m. ET
DAP prices
Last week, phosphate prices for both DAP (diammonium phosphate) and MAP (monoammonium phosphate) continued their upward momentum. In this part of the series, we'll look at DAP prices.
Article continues below advertisement
Weekly movements
DAP prices at the above locations were broadly flat to positive last week. India saw the steepest increase in DAP prices by 2.7% week-over-week to $418 per metric ton from $407 per metric ton a week ago. Next was the NOLA (New Orleans) location in the US, which saw a 0.8% weekly increase in DAP prices to $343 per metric ton from $340 a week ago.
DAP prices in Saudi Arabia rose 0.7% t0 $415 per metric ton from $412 per metric ton a week ago. In the Tampa and Morocco locations, prices rose 0.5% each week-over-week. In Tampa, prices rose to $410 per metric ton from $408 per metric ton, and in Morocco, DAP prices rose to $418 per metric ton from $416 per metric ton a week ago.
In contrast to these five locations, DAP prices in Central Florida and China were broadly flat week-over-week. In Central Florida, DAP prices stood at $385 per metric ton and in China, prices stood at $414 per metric ton last week.
Yearly movements
Last week's momentum gave further strength to DAP prices YoY (year-over-year). In India, prices were up 18% YoY, and in Saudi Arabia, DAP prices rose 14%. In Morocco and China, DAP prices were up 13% each and in NOLA, prices rose 12%. Tampa and Central Florida saw a YoY gain of 11% and 10%, respectively.
Mosaic (MOS), in its 4Q17 earnings, stated that the prices moved higher on the back of higher demand and capacity rationalization globally. Producers (MOO) like Nutrien (NTR), Israel Chemicals (ICL), and Intrepid Potash (IPI) have all worked to optimize their production costs by idling facilities.
Next up MAP prices.