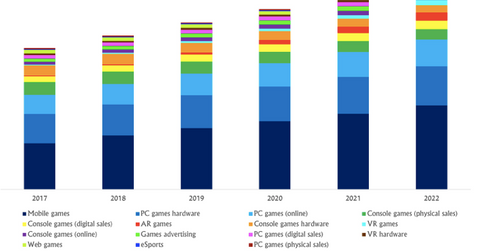 Why the PC Gaming Market Isn't Dead for NVIDIA
By Puja Tayal

Feb. 22 2018, Updated 6:19 p.m. ET
PC gaming outlook
NVIDIA's (NVDA) gaming business reported record-high revenue as PC (personal computer) gamers invested in high-end GPUs (graphics processing units) to enjoy AAA-games like PUBG (PlayerUnknown's Battlegrounds). NVIDIA's gaming revenues rose 34% YoY (year-over-year) to $5.5 billion in fiscal 2018.
PricewaterhouseCoopers estimates that gaming revenues will grow at a CAGR (compound annual growth rate) of 5% to around $90.1 billion by 2020. Digi-Capital estimates that PC games hardware sales could grow up to $35 billion in 2018 and to $45 billion by 2022. It also estimates that online PC game revenues could drive $20 billion–$25 billion this year and $25 billion–$30 billion by 2022.
Given this growth opportunity, Intel (INTC) is entering the PC gaming market by partnering with Advanced Micro Devices (AMD). Intel will likely launch its mobile PC gaming platform with its integrated Kaby Lake processor and AMD's Vega GPU.
Article continues below advertisement
PC gaming trend
PC gaming is going beyond gamers playing games alone on their PCs and becoming more of a social entertainment, especially among millennials. The popularity of eSports is increasing. In eSports, gamers play with other gamers online and a large set of the audience watch these games. Gamers are also streaming their games on popular channels like Twitch and YouTube.
NewZoo data showed that top five most-streamed games were broadcast on the Twitch platform for over 233 million hours in December 2017. It estimates esports audience to nearly double to 600 million between 2015 and 2020 and eSports revenues to grow 358% to ~$1.5 billion between 2016 and 2020.
Other third-party research has shown that over 650 million people watch games on game streaming sites like YouTube and Twitch. This research estimates that the PC player base to grow from 1 billion to 1.4 billion by 2022.
This shows that GPU demand is not only growing among gamers but also among viewers who watch eSports and streamed games. NVIDIA is tapping this opportunity by offering additional products and services that meet the demands of all types of gamers, enthusiasts, frequent layers, occasional players, and gaming audiences.
In the next part of this series, we'll take a look at NVIDIA's new products.
Correction: This article originally suggested that Digi-Capital claimed online PC game revenues could reach ~$25 billion in 2018 and ~$30 billion by 2022 rather than drive $20 billion–$25 billion this year and $25 billion–$30 billion by 2022. We regret this error.