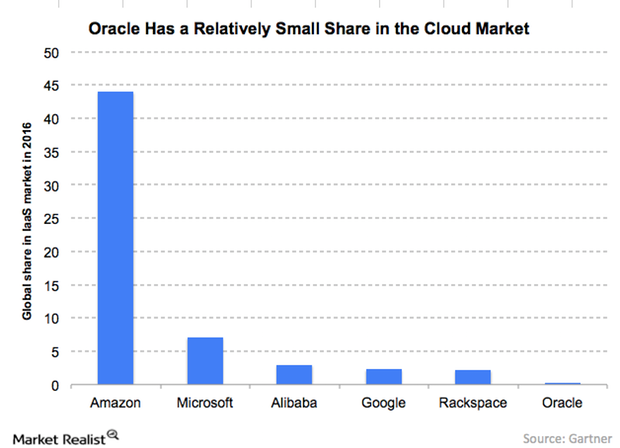 Oracle's Latest Push into Cloud Computing
By Sanmit Amin

Feb. 21 2018, Updated 4:25 p.m. ET
Oracle to build 12 new cloud data centers
Tech giant Oracle (ORCL) is planning to build 12 new data center complexes for its cloud-computing business, according to a report by The Wall Street Journal. The report indicated that these data centers will be spread globally, with four in the United States and Canada, six in Asia, and two in the Netherlands and Switzerland.
One of the new data centers will be in China (FXI), where Oracle will join hands with Tencent (TCEHY), according to the report. Chinese regulations stipulate that foreign companies need to team up with local ones to operate in the country.
Article continues below advertisement
Cloud computing is a fast-growing but fiercely competitive business
While Oracle controls a very small portion of the overall cloud market, this new development could help the company better compete with market leaders, including Amazon's (AMZN) AWS (Amazon Web Services) and Microsoft's (MSFT) Azure. Amazon's AWS is the clear leader in cloud computing.
According to Gartner, Amazon leads the pack, with a 44% share of the IaaS (infrastructure-as-a-service) public cloud service market as of 2016. Microsoft, in second place, had a meager 7% market share of the space.
Microsoft's Azure has grown ~90% year-over-year, while AWS has grown ~40%. Whereas Oracle may not be able to buy success, its recent move strengthens its push into the fast-growing cloud computing space.