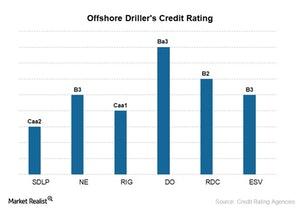 The Offshore Drillers with the Highest and Lowest Credit Ratings
By Sue Goodridge

Feb. 5 2018, Updated 9:01 a.m. ET
Credit ratings
Credit ratings can change over time as companies and the industry outlook change. Investors should also remember that changes in credit ratings can lag the market. Credit ratings may confirm the risk associated with a company but not predict those risks in advance.
Article continues below advertisement
Seadrill Partners
In December 2017, Moody's confirmed a "Caa2" rating on Seadrill Partners (SDLP) and changed its outlook on the stock to "stable" from "negative." The "Caa2" rating is considered a poor standing and subject to very high credit risk.
Ensco
On January 10, 2018, Moody's downgraded Ensco's (ESV) senior unsecured notes to "B3" from "B2." It maintained a negative outlook on Ensco. Moody's maintained its negative outlook on Ensco due to the offshore drilling industry's weak fundamentals and Ensco's increasing financial leverage despite the company's proactive debt maturity management and initiative to enhance liquidity. In October 2017, Moody's downgraded Ensco to a "B2" rating.
Article continues below advertisement
Highest and lowest credit rating
Among the offshore drillers under our consideration in this series, Diamond Offshore Drilling (DO) has the highest credit rating by Moody's at "Ba3." Seadrill Partners has a credit rating of "Caa2," the lowest among its peers. This rating reflects a poor standing and high credit risk.