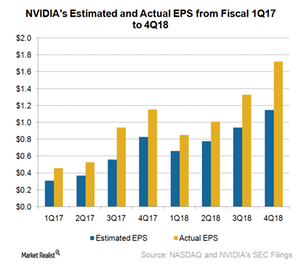 Nvidia's Growth Catalysts: Stronger Than Stock Market Volatility?
By Puja Tayal

Dec. 4 2020, Updated 10:52 a.m. ET
Nvidia's growth catalysts 
Nvidia (NVDA) was the second-fastest-growing semiconductor stock in 2017, returning more than 80%. Throughout this series, we've been looking at analysts' recommendations to invest in tech (technology) stocks that have future growth potential.
One company that might fit the bill is Nvidia. The stock has been rising significantly for the last two years, breaking all records in terms of earnings and stock price. Growth was driven by the AI (artificial intelligence) revolution.
Nvidia has several growth catalysts, and its products seem to be unbeatable even by tech giants such as Intel (INTC).
Article continues below advertisement
Nvidia is a leader in the PC (personal computer) gaming market, which has grown significantly due to the increasing popularity of eSports in which gamers play with other gamers online with a huge audience watching.
The company also witnessed a triple-digit growth in the data center space since major companies are using its GPUs (graphics processing units) for their AI tasks.
Then came the cryptocurrency boom, which caused a shortage of GPUs in the market. Advanced Micro Devices (AMD) was the biggest beneficiary of this boom, but Nvidia also benefited.
In 2018 so far, Nvidia has cashed in on the autonomous driving and inference technology.
All these growth catalysts are driving Nvidia's earnings to record highs.
Nvidia's earnings potential
Nvidia released better-than-expected fiscal 4Q18 earnings on February 8, 2018, for the period ended January 28, 2018. That made Nvidia stock rise 6.7% the next day. The rally is likely to continue throughout 2018.
In fiscal 4Q18, Nvidia's revenue rose 34% YoY (year-over-year) to $2.9 billion, beating analysts' estimate of $2.7 billion. The company's non-GAAP (generally accepted accounting principles) EPS (earnings per share) rose 52% YoY to $1.72, beating analysts' estimate of $1.17.
As you can see in the above graph, the earnings surprise is increasing every quarter and could increase further.
Nvidia expects the recent corporate tax reform legislation, passed at the end of 2017, to reduce its tax rate from 17% to 12% and bring the provisional benefit of $133 million.
Nvidia's stock valuation
Strong earnings and growth catalysts justify Nvidia's high stock valuation. The stock is currently trading at 37.6x its 12-month forward EPS (earnings per share). That compares to the S&P 500 Index's (SPX-INDEX) PE (price-to-earnings) ratio of 16.3x and rival Advanced Micro Devices' (AMD) ratio of 29.1x.
Many investors have been waiting for Nvidia stock to correct in order to take a position in this fast-growing stock. Some of them just might do that before the stock rebounds completely.
The recent stock market carnage is just one of the many factors affecting the semiconductor industry. Next, we'll look at other factors that are affecting semiconductor stocks.