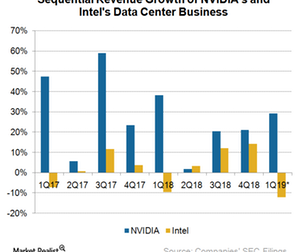 NVIDIA's Data Center Business Continues on Hyperdrive Mode
By Puja Tayal

Updated
NVIDIA's data center business
Gaming continues to be NVIDIA's (NVDA) core business, though it's banking on data center and AI (artificial intelligence) for future growth. GPU (graphics processing unit) originally took the graphics load away from its CPUs (central processing units), allowing them to run high-end applications easier and faster. NVIDIA expanded the use of the GP and made it more general purpose, and these are now being used in areas that require accelerated computing beyond Moore's law.
Article continues below advertisement
The AI revolution began with NVIDIA's Pascal GPUs in 2016. In mid-2017, it launched its Volta-based Tesla V100 GPUs for corporate clients. These efforts toward better GPUs accelerated computing paved off, and NVIDIA's Data Center revenue rose 133% YoY (year-over-year) to $1.9 billion in fiscal 2018.
NVIDIA's data center revenue
In fiscal 4Q18, NVIDIA's data center revenues rose 105% YoY and 21% sequentially to $606 million, beating the analyst estimate of $541.1 million. This marks the seventh-straight quarter of triple-digit YoY growth. According to Bloomberg's financial analysis, NVIDIA earned 60% of its GPU revenue from the Data Center segment.
Even Intel's (INTC) data center revenues rose 14% sequentially during the same quarter, marking its highest sequential growth in over two years.
Article continues below advertisement
Growth drivers
This growth was driven by the strong adoption of Tesla V100 GPUs by every major cloud provider and some hyperscale providers for their AI and HPC (high-performance computing) tasks. During its fiscal 4Q18 earnings call, NVIDIA chief executive officer Jensen Huang stated that cloud companies including Amazon.com's (AMZN) Amazon Web Services, Baidu (BIDU), Microsoft's (MSFT) Azure, and hyperscale customers such as Oracle (ORCL) and Samsung (SSNLF) have all adopted Tesla V100.
NVIDIA is also seeing growing traction in the AI inference market, wherein its GPUs are powering applications such as speech recognition, image and video analytics, recommender systems, translations, searches, and natural language processing.
Huang made a special mention of the HPC community, which is increasingly transitioning to the accelerated computing. Huang stated that NVIDIA added 34 new GPU accelerated systems to the Top 500 Supercomputers in the world. Its GPUs now power 87 of the top 500 Supercomputers, including all of the top 15 supercomputers, and 14 of the top 20 most energy-efficient supercomputers in the Green 500 list.
NVIDIA has also won order to supply more than 4,000 Tesla V100 GPUs to power Japan's fastest AI supercomputer, the ABCI system.
Fiscal 1Q19 guidance
Fiscal 1Q is a seasonally strong quarter for NVIDIA's Data Center segment with revenue growing 47% sequentially in fiscal 1Q17 and 38% in fiscal 1Q18. For fiscal 1Q19, its Data Center revenues are expected to grow 29% sequentially to $783 million. Nomura analyst Romit Shah expects the segment's revenues to rise 64% YoY to ~$3.2 billion in fiscal 2019.
NVIDIA is expanding its GPU accelerated computing beyond data center into other AI applications such as smart cities and autonomous machines. We'll look into this further in the next part.