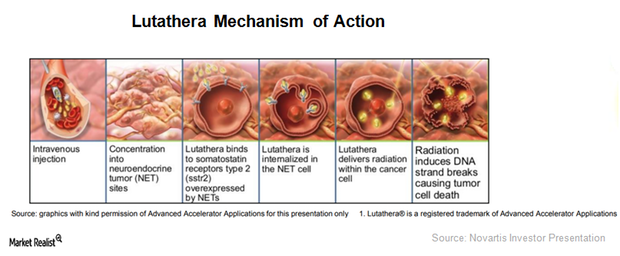 Novartis Seeks to Acquire Advanced Accelerator Applications
By Margaret Patrick

Feb. 20 2018, Updated 10:31 a.m. ET
Acquisition of Advanced Accelerator Applications
On October 30, 2017, Novartis (NVS) announced its plans to acquire radiopharmaceutical company Advanced Accelerator Applications. This acquisition would expand its oncology portfolio in the Molecular Nuclear Medicines segment.
On January 22, 2018, Novartis completed the tender offer. On February 1, 2018, the company completed the subsequent offering period for Advanced Accelerator Applications. This deal resulted in the expansion of Novartis's neuroendocrine tumor (or NET) treatment portfolio through the addition of first-in-class RadioLigand Therapy (or RLT) therapy, Lutathera.
The chart below shows the mechanism of action of Lutathera in treating NETs.
Additionally, the acquisition has added a robust research pipeline comprising multiple RLT programs to Novartis's portfolio. According to the Novartis R&D  and investor day presentation, "RLT involves the systemic administration of a radiopharmaceutical to deliver cytotoxic radiation to a tumor."
Article continues below advertisement
On January 26, 2018, the FDA approved Lutathera for adults with somatostatin receptor-positive gastroenteropancreatic neuroendocrine tumors (or GEP-NETs). According to FDA estimates, GEP-NETs affects around one in 27,000 people annually. On September 29, 2017, this therapy was approved in a similar indication in the European Union.
SEG101 growth prospects
Novartis is currently evaluating the potential of therapy of humanized anti-P-selectin monoclonal antibody (or SEG101) as a treatment option for sickle cell disease. Approximately 100,000 people in the US and the European Union suffer from this condition.
Novartis aims to file a regulatory application for this investigational therapy in the US in late 2018 or early 2019, while its submission in the EU is planned for 1Q19.
Lutathera and SEG101 are expected to significantly strengthen Novartis's position in the oncology segment, despite the presence of intense competition from peers such as Merck (MRK), Pfizer (PFE), and Eli Lilly (LLY).
In the next article, we'll discuss Novartis's investigational migraine therapy.