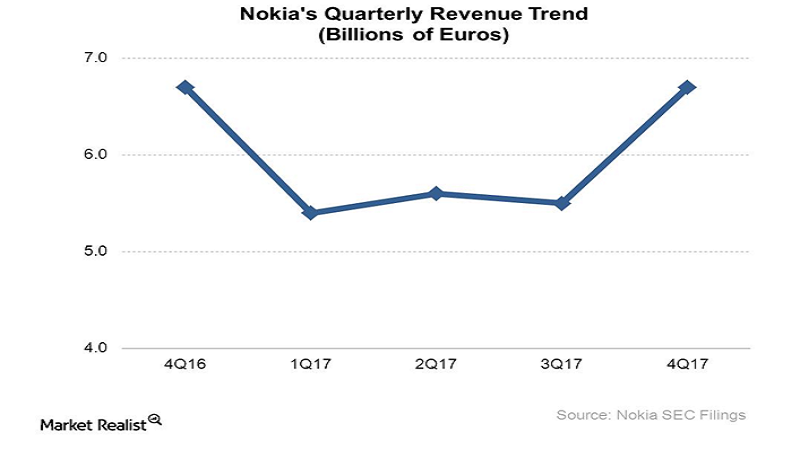 What Nokia's Reefshark Chipset Could Offer
By Ruchi Gupta

Feb. 20 2018, Updated 9:03 a.m. ET
Phones to start arriving in 2019
Nokia (NOK) has developed a new silicon chipset, ReefShark, adding to its growing list of products aimed at the 5G [fifth-generation] network market. From the United States to Japan, mobile operators are preparing for the commercial deployment of 5G networks, which promise faster speeds and higher capacity.
Nokia and Ericsson (ERIC), two of the largest vendors of telecom equipment and technology, are working with carriers AT&T (T) and Verizon (VZ) on 5G network deployment. Verizon is looking to roll out 5G services in several US markets before the end of this year. According to mobile chipset maker Qualcomm (QCOM), 5G-ready mobile phones should start arriving in 2019.
Article continues below advertisement
Tripling network capacity
Nokia has positioned ReefShark as a building block of 5G networks, saying that the chipset is designed to help operators increase the data-handling capacity of their networks to meet growing mobile data demands. Nokia says the ReefShark chipset is capable of tripling network capacity to 84Gbps (gigabits per second) from today's 28Gbps.
Nokia has added that ReefShark could also help operators cut their systems' power consumption by 64% and cell towers' antenna size by 50%. Ultimately, these benefits could result in lower costs for operators.
Spending on 5G networks
With SNS Research forecasting that 40% of telecom companies' spending will go to 5G-related works by 2025, Nokia's ReefShark could grab the attention of operators seeking efficiency in their 5G network build-out and potentially stimulate growth in Nokia's business. The company has struggled with declining and flat revenue growth in recent quarters amid a slowdown in 4G equipment uptake. The chart above shows Nokia's quarterly revenue trends.