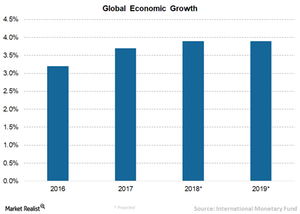 Why Investors Should Monitor Geopolitical Risks
By Peter Barnes

Feb. 13 2018, Updated 5:45 p.m. ET
Strategic balance with North Korea
Localized geopolitical risks like the tension in the Middle East are unlikely to cause substantial damage to the markets in the long run, though they could bolster oil prices in the short term. The tension in the Korean Peninsula could be the biggest danger to market stability in the long run. As long as the balance is maintained between US interests and North Korea's ambitions, the status quo is likely to prevail. However, if this balance is breached, the resultant strike could engulf many large nations into the conflict, and economic activity in these regions could be affected drastically, leading to wider ramifications for global growth.
Article continues below advertisement
Full-blown trade war is the biggest worry
However, a trade war is the biggest risk to stock markets in the near term. Higher tariff barriers from the US and retaliatory measures from its major trading partners like China (MCHI) (FXI) (GXC) could hurt global growth if they escalate into a full-blown trade war. This would come at a time when global economies (VEU) (VXUS) are growing at a robust rate. According to the International Monetary Fund, the global economy is expected to grow 3.9% both in 2018 and 2019, up from an estimated 3.7% in 2017. A full-fledged trade war would certainly be a huge headwind to global economic growth. And since stock markets are currently being driven by higher economic activity, they could encounter problems as well.