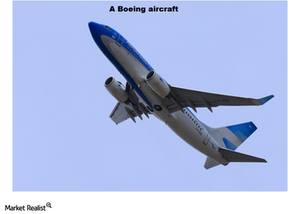 Must-Know Recent Developments from Boeing
By Samuel Prince

Feb. 15 2018, Updated 1:02 p.m. ET
Trump's 2019 defense request and Boeing
On February 12, 2018, President Trump proposed a $686.0 billion defense budget request for 2019. His plan has room for Boeing (BA). If the request is accepted, it would put funding in place for Boeing F/A-18E/F Super Hornet jets. The President's agenda includes adding 24 Boeing Super Hornet jets in 2019 and another 110 jets through 2023. The previous administration had planned to put a full stop on jet purchases in 2018.
Article continues below advertisement
President Trump also intends to increase the missile defense system as a possible countercheck to Iran and North Korea. The missile defense system budget is expected to go up 25% or $1.9 billion from the Obama government's planned $8.0 billion. Boeing is expected to gain from the proposed spending increase, as are other contractors like Lockheed Martin (LMT), Northrop Grumman (NOC), and Raytheon (RTN).
Who took the lead in January aircraft deliveries?
In January 2018, Boeing took a 17-aircraft lead over its archrival Airbus. Boeing delivered 44 commercial aircraft compared Airbus's 27 aircraft. The Chicago-based top aerospace and defense (IYJ) company delivered 31 Boeing 737s, eight Boeing 787s, three Boeing 777s, one Boeing 767, and one Boeing 747.
Boeing's mid-sized aircraft program
Boeing is looking into three possible engine designs for its mid-sized passenger aircraft, nicknamed the 797 by analysts. They expect the new plane to be a mid-market twin-aisle aircraft with a seat range varying from 200 to 270 and nautical miles ranging from 4,000 to 5,000. The company discussed the possibilities of building such an aircraft in the Paris Air Show. The number two air passenger carrier, Delta Air (DAL), has shown interest in the development of the Boeing 797 jetliner.