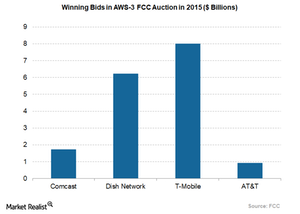 What Are AT&T's 5G Technology Plans?
By Sophia Nicholson

Dec. 4 2020, Updated 10:53 a.m. ET
AT&T on 5G services
AT&T (T) announced on January 2, 2018, that it expects to become the first US carrier company to roll out the real 5G network in some markets. It expects the 5G roll-out before the end of 2018. Though AT&T hasn't disclosed details about 5G speed and devices on which 5G services will work, the company confirmed that its network would be based on the 5G NR (new radio) guidelines specified by the 3rd Generation Partnership Project.
Article continues below advertisement
Objective of 5G
AT&T has been focusing on its 5G (fifth-generation) technology, as 5G services are predicted to significantly boost wireless data speed and improve the latency and capacity of the existing 4G LTE (long-term evolution) path. Further, 5G-enabled mobile devices are likely to have a longer life than 3G or 4G devices. In fact, 5G technology will be necessary for growth in Internet-connected devices, popularly known as the Internet of Things (or IoT). 
AT&T holds leading position in 5G space
AT&T competes with rivals Verizon (VZ), Sprint (S), and T-Mobile (TMUS) in the 5G market. Like AT&T, Verizon has also planned to roll out its 5G service in five cities by the end of 2018. Both Sprint and T-Mobile have announced plans to start rolling out its 5G network in 2019. T-Mobile, however, said that by 2020, the company would complete the global coverage of its 5G services.
In 2015, during the AWS-3 spectrum auction, AT&T made the highest bid to acquire spectrum worth $18.2 billion. On the other hand, Verizon acquired spectrum worth $10.4 billion, and T-Mobile acquired spectrum worth $1.8 billion, as can be seen in the above graph. The AWS-3 spectrum auction was a vital auction conducted by the Federal Communications Commission (or FCC) after 2008.