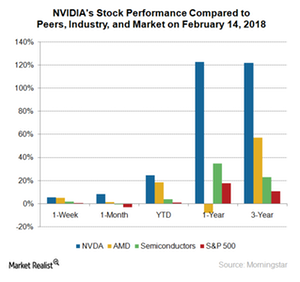 What Money Managers Seem to Think about NVIDIA's Stock Price
By Puja Tayal

Feb. 21 2018, Updated 9:01 a.m. ET
NVIDIA's stock price movement
NVIDIA (NVDA) is one stock that has caught eyes of nearly all investors, as the stock rose more than 500% from $33 the start of 2016 to $199.3 at the start of 2018. In January 2018, the stock witnessed its biggest rally since May 2017, growing 23% in just one month. During this month, the stock reached its 52-week high of $249.27.
However, all this growth came to a temporary pause when the entire stock market fell in early February 2018. NVIDIA's stock fell 13% to $213.7 between February 1 and 5, while the S&P 500 Index (SPX-INDEX) fell 6% and the Market Vectors Semiconductor ETF (SMH) fell 8%.
The market and SMH rebounded on February 8, 2018, but are still trading below their January 2018 levels. By contrast, NVIDIA rebounded and is now close to its January 2018 level once again.
The correction seen in early February 2018 led many money managers to comment on whether it's now a good time to buy. This was especially the case with NVIDIA, as the stock has strong growth potential but it has become very expensive.
Article continues below advertisement
At what price to buy NVIDIA's stock?
Even after NVIDIA's stock price fell 13%, it was trading at 44 times its fiscal 2018 EPS (earnings per share) of $4.82. This is way more than semiconductor industry's average PE (price-to-earnings) ratio of 31.0x and the S&P 500 Index's average of 24.0x.
NVIDIA has one of the highest PE ratios in the semiconductor industry. As of February 14, 2018, NVIDIA's PE ratio stands at 50x, which is higher than Intel's (INTC) and Texas Instruments' (TXN) PE ratios of 12.8x and 20.6x, respectively.
Miller Tabak equity strategist Matt Maley told CNBC's "Trading Nation" that NVIDIA is highly overbought, and even the 13% decline in early February did not make its valuation reasonable. Tabak believes that the stock has to fall 15% to 16% from its current trading price to its 100-day moving average of around $204 to make it a good buy.
Money managers on the semiconductor sector
Other money managers also think that the semiconductor industry is currently trading at an inflated price. SMH rose 34% in 2016, outperforming the S&P 500 Index which rose 9%. The same trend repeated in 2017 when SMH rose 37%, but the S&P 500 Index rose 20%.
The Bapis Group at HighTower Advisors' managing director, Michael Bapis, stated that the growing demand from smartphones and crypto miners have inflated the value of semiconductor stocks. It remains to be seen whether the growing demand benefits the chip industry in future.
While money managers find NVIDIA to be highly valued, analysts have a different view. We'll discuss this in the next part of this series.