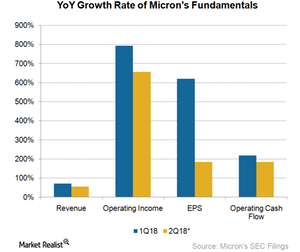 Is Micron Worth a Look after the Recent Stock Market Sell-Off?
By Puja Tayal

Updated
Micron Technology's growth potential
So far, we've seen that the recent stock market carnage made investors and some analysts bearish on tech (technology) stocks because of their cyclicality. Among the semiconductor stocks, memory stocks Micron Technology (MU) and Samsung (SSNLF) are the most cyclical. However, many analysts believe that this is the right time to buy some stocks with strong growth potential.
One of those stocks is Micron. It was the fastest-growing semiconductor stock in 2017, returning 87%. Although the stock is unlikely to deliver similar returns in 2018, it appears to have strong fundamentals and could have good growth potential, which was reflected in its revised guidance for fiscal 2Q18.
Article continues below advertisement
Micron's earnings potential
On February 5, 2018, when the entire stock market crashed, Micron stock rose 11.4% in just one day after it upped its earnings guidance for fiscal 2Q18, ending March 1, 2018. The company raised its revenue estimate from $7 billion to ~$7.3 billion, representing a YoY (year-over-year) growth of 56%. It also raised its EPS (earnings per share) estimate from $2.57 to $2.73, representing a YoY growth of 203%.
The earlier EPS guidance was above analysts' estimate of $2.03 on $6.2 billion of revenue. The revised EPS guidance is again above analysts' revised estimate of $2.57 on $7 billion of revenue. That could mean that Micron has strong earnings potential for 2018. If Micron maintains its EPS, fiscal 2018 EPS could be $10.30, representing a YoY growth of 102%.
Article continues below advertisement
Micron's stock valuation
Since Micron is a cyclical stock and reacts to the stock market, its 11.4% growth from its revised guidance vanished in the stock market sell-off. The stock is currently trading at four times its forward EPS, which is below the S&P 500 Index's (SPX-INDEX) PE (price-to-earnings) ratio of 16.3x.
That could mean that investors aren't willing to pay even the market rate per dollar of EPS since the company operates in a highly cyclical market. The company is outperforming the stock market since memory prices are rising due to a shortage in supply. Investors aren't sure when this uptrend could end and when memory prices could start falling. Because of this uncertainty, investors are avoiding buying Micron for a higher price. Even if memory prices decline, there's enough demand to keep revenues at the current level.
However, the current decline in stock prices, low valuation of the stock, and strong earnings potential could encourage investors to buy Micron. If the stock even trades at a 6.5x PE ratio, it would represent an upside of 66%. Wall Street analysts have set an average price target of $60 for Micron, which represents an upside of 49% from its current stock price of $40.40.
Some analysts consider Nvidia (NVDA) stock to be overvalued. We'll look at Nvidia's fundamentals in the next part of this series.