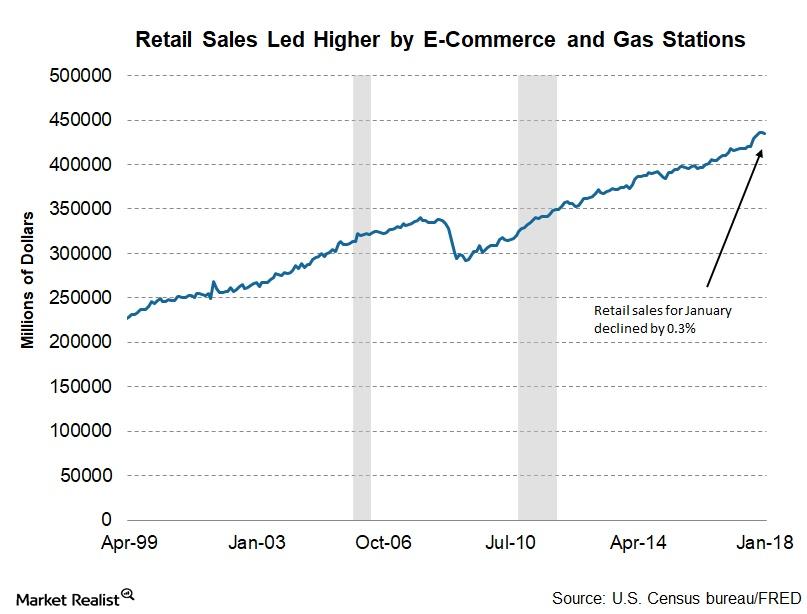 Analyzing the Retail Sales Drop in January
Retail sales declined 0.3% in January
The US Census Bureau releases a monthly report on retail sales in the US. According to notes on the Census Bureau's website, the US Census Bureau conducts an advance monthly survey of retail trade and food services companies. The report is an early estimate of the monthly sales for the surveyed month.
According to the latest report released on February 14, the advance estimates for US retail (XRT) and food services in January 2018 were $492 billion—a decrease of 0.3% from the revised December reading of $493.3 billion.
Article continues below advertisement
Which sector contributed to retail sales growth?
According to the January retail sales report, gains were spread across industries. Of the 13 major categories surveyed, only one category of stores, (sporting goods, hobby, and book and music stores) reported declines for January. Sales in auto (CARZ) and housing materials (XHB) reportedly declined in January, which isn't unusual considering the hurricane-related spike in 2H17. Core sales, which exclude auto sales, remained unchanged in January, while the numbers in the previous two months were revised higher. Internet and mail-order sales (IBUY) increased 10.2% month-over-month from the previous month.
Takeaway from retail sales
Retail sales (RTH) aren't usually a strong indicator of economic activity. Retail sales only indicate the change in consumer spending habits. With increased worker wages and jobs, and the additional impact of tax cuts could increase retail sales in 2018. The lower January reading could be a minor seasonality issue. In the next part of this series, we'll analyze why markets moved higher despite the uptick in inflation.