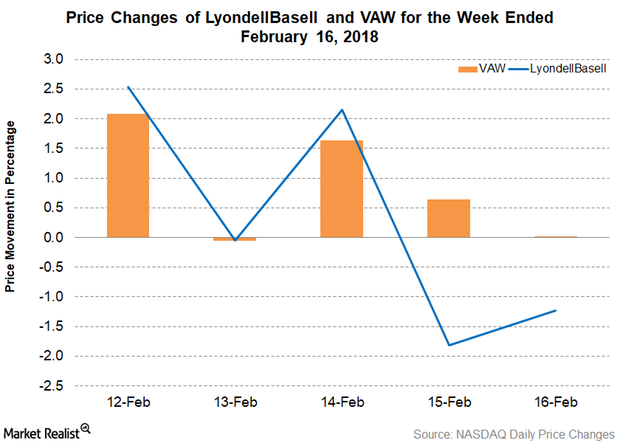 LyondellBasell Moves to Acquire A. Schulman
By Peter Neil

Feb. 20 2018, Published 3:02 p.m. ET
LyondellBasell set to acquire A. Schulman
On February 15, 2018, LyondellBasell (LYB) announced that it has entered into a definitive agreement to acquire A. Schulman (SHLM). If the takeover is successful, it would help LYB to step into the premier Advanced Polymer Solutions business.
SHLM's wide range of products is geared toward markets such as automotive, construction, home improvement, packaging, medical, telecommunications, gardening, and toys.
This deal is valued at ~$2.3 billion, and LYB expects to pay $42.00 per share in cash to acquire 100% of SHLM's outstanding shares. LYB would also assume SHLM's outstanding debt and other obligations along with one contingent value right per share.
LYB expects to use its cash on hand to finance this transaction. LYB expects cost-saving synergies of $150.0 million in the next two years. The deal is expected to be completed in 2H18 subject to regulatory and shareholder approval.
Article continues below advertisement
Bob Patel, LyondellBasell's CEO, said, "The acquisition of A. Schulman is a natural extension of our current platform. This combination will allow us to provide our customers with a wider range of innovative solutions while adding the ability to serve high-growth end markets beyond the automotive sector, such as packaging and consumer products, electronics and appliances, building and construction, and agriculture."
Patel continued, "By leveraging our proven approach to operational, commercial and business excellence, the combined business will create significant value for our shareholders and customers."
Update on LYB's stock movement
LyondellBasell (LYB) stock gained 1.5% and closed at $108.61 for the week ended February 16, 2018. The gains in LYB's stock price helped LYB trade marginally above its 100-day moving average price of $107.17.
On a year-to-date basis, LYB has fallen ~1.6%. LYB has ~2.6% of its outstanding shares as short interest. However, LYB's 14-day relative strength index (or RSI) of 42 indicates that the stock is neither overbought nor oversold.
Investors can gain broad-based exposure to LYB via the Vanguard Material ETF (VAW), which invests 3.9% of its portfolio in LyondellBasell. VAW also has exposure to Monsanto (MON) and Air Products and Chemicals (APD) with weights of 5.6% and 3.8%, respectively, on February 16, 2018.