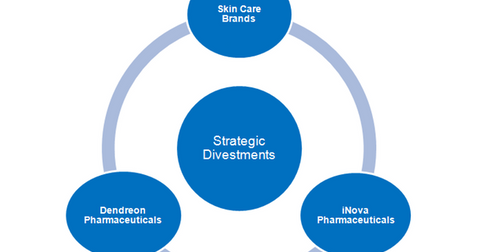 Inside Valeant Pharmaceuticals' Recent Divestments
By Kenneth Smith

Updated
VRX's licensing agreement
Valeant Pharmaceuticals (VRX) was granted the worldwide exclusive licensing rights for manufacturing and selling the EyeGate 2 delivery system and EGP-437 combination product candidate by EyeGate Pharmaceuticals in February 2017. EGP-437 is under development for the treatment of post-operative pain and inflammation in ocular surgery patients.
Under the agreement, Eye Gate Pharmaceuticals will be responsible for the development of EGP-437 in the US. Valeant Pharmaceuticals paid a consideration of $4 million in license fees and is obligated to an aggregate of $99 million in development, regulatory, and sales-based milestones.
Article continues below advertisement
Divestments: CeraVe, AcneFree, and Ambi skincare brands
Valeant Pharmaceuticals completed the sale of its skin care brands CeraVe, AcneFree, and Ambi in March 2017 for $1.3 billion. This portfolio was part of its International segment.
Dendreon Pharmaceuticals
In June 2017, Valeant Pharmaceuticals sold its interest in Dendreon Pharmaceuticals for a price of $820 million. The latter was a part of the former's branded prescription segment.
Article continues below advertisement
iNova Pharmaceuticals
Valeant sold off iNova Pharmaceuticals in September 2017 for $938 million. Notably, iNova Pharmaceuticals is a marketer of weight management, pain management, cardiology, cough, and cold prescriptions and over the counter products in more than 15 countries. The company holds a leading market position in Australia and South Africa.
Obagi medical products
Valeant announced the sale of its Obagi Medical Products business for $190 million in July 2017. Obagi Medical's products focus on premature skin aging, skin damage, hyperpigmentation, acne, and sun damage.
These products are channeled through dermatologists, plastic surgeons, and other skin care professionals. This business was part of Valeant's US diversified products segment. Valeant Pharmaceuticals expects this sale transaction to close in 2017.
The cash-per-share ratio of Valeant Pharmaceuticals is 2.68, while for peers Gilead Sciences (GILD), Horizon Pharmaceuticals (HZNP), and Jazz Pharmaceuticals (JAZZ), this ratio stands at 21.28, 3.75, and 7.42, respectively.
Valeant Pharmaceuticals makes up ~4.2% of the Pharmaceutical ETF's (PPH) total portfolio holdings.
In the next part of the series, we'll take a look at the business segments of Valeant Pharmaceuticals.