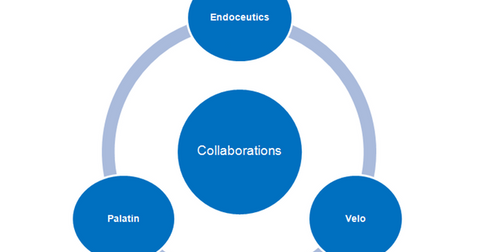 A Look at AMAG Pharmaceuticals' Collaborations
By Kenneth Smith

Updated
Customer concentration
AmerisourceBergen (ABC) and McKesson (MCK) make up the largest customer base of AMAG Pharmaceuticals (AMAG). AmerisourceBergen contributed 22%, and McKesson contributed 21% to AMAG's total revenues in 3Q17. The two companies made up ~50% of its total accounts receivable in 3Q17.
Article continues below advertisement
Collaboration and licensing agreements
AMAG Pharmaceuticals' business strategy includes the expansion of its portfolio through licensing and acquisitions of additional pharmaceutical products or companies, including commercial products and products in late-stage development.
Endoceutics
In February 2017, AMAG entered into a licensing agreement with Endoceutics. Under the agreement, AMAG received development and commercialization rights for products containing dehydroepiandrosterone (or DHEA). AMAG paid $63.5 million in cash and common stock for those rights.
Article continues below advertisement
Palatin Technologies
In January 2017, AMAG Pharmaceuticals entered into a licensing agreement with Palatin Technologies (PTN) in which AMAG acquired an exclusive license to develop, commercialize, and subgrant bremelanotide and products containing bremelanotide.
AMAG paid $60 million to Palatin for those rights in February 2017.
Velo Bio
In June 2015, AMAG was granted an option to acquire the rights to digoxin immune fab (or DIF) from Velo Bio. DIF is a polyclonal antibody in clinical development for the treatment of severe preeclampsia in pregnant women. In 3Q15, AMAG made an up-front payment of $10 million to Velo for the acquisition. DIF has received orphan drug and fast-track review designation from the FDA (U.S. Food & Drug Administration) for the treatment of severe preeclampsia.
In the next part of this series, we'll take a look at the factors leading up to the stellar stock performance of AMAG Pharmaceuticals in February 2018.