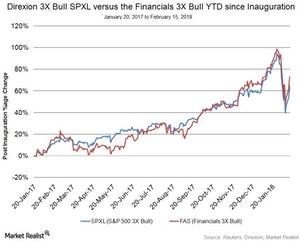 How Long Will Financials Fly?
By Direxion

Feb. 28 2018, Updated 4:16 p.m. ET
Financials flying
Incredibly, the S&P500 Financials GICS Level 1 is up over 25% since the inauguration of Donald Trump.  Interestingly, the early push in the sector was really tied to the potential repeal of Dodd-Frank and how that repeal could unleash banks' balance sheets. But even though things didn't play out that way, financials have roared ahead for at least three other reasons. 
The first reason is just the improvement in the overall economy. Financial stocks are, obviously, sensitive to how well the overall economy acts, since they grease the wheels.
The second reason is the tax bill. Most valuations for banks have fallen in the near term, as earnings pop when tax rates come down. The institutions also buy more stock back and pay higher dividends. 
And the third reason: financials very much benefit from a rise in interest rates, as they make more money on carry. This last benefit often ultimately becomes a headwind as rates go up and financing slows as well as the mortgage business.
Article continues below advertisement
Plus, the slow, steady rise in the market has left volatility historically low (until February). Low volatility means lower trading fees for large brokerage businesses. But for now, financials look strong and not expensive. And who knows? Maybe banks could still get relief from Dodd-Frank. Whichever way you think it goes, Direxion's FAS (3x Bull) Financials and FAZ (3x Bear Financials) can help you chart a course to financial success. The triple-weighted Bull FAS has been up almost 70% since President Trump's inauguration.
Market Realist
Financials had a good run last year
Since Donald Trump won the presidential election in 2016, the financial sector has soared on expectations of lighter regulations. President Trump has proposed to abolish the Dodd-Frank Act and the Consumer Protection Act and replace them with new legislation. That boosted the performance of the financial sector. As of February 15, 2018, the financial sector, as tracked by the S&P Financial Sector Index (XLF), has risen 25% since President Trump was inaugurated on January 20, 2017.
Article continues below advertisement
The Fed and rate hikes
The Federal Reserve's gradual interest rate hike process and the reduced corporate tax rate could boost lending activity in banks, driving an increase in banks' net interest incomes. Led by a healthy economy and better job numbers, the FOMC (Federal Open Market Committee) raised the interest rate to 1.5% in December 2017. The Fed expects to increase rates to 2.1% in 2018. The chart above shows the earnings growth estimate for banks if rates rise.
The Financial Times reported last month that many investors and analysts still believe bank stocks have a promising outlook, even after two successive years of standout performances. In the same article, David Neuhauser, founder and managing director of Livermore Partners, mentioned that he believes the financial sector has a more balanced outlook this year. He added that if the economic situation continues and rates increase, the sector could see more opportunities.
The sector has risen 4% year-to-date as of February 15, 2018. The performance this year was further driven by strong earnings growth of major financial stocks in 4Q17. Citigroup (C), JPMorgan Chase (JPM), and Bank of America (BAC) surpassed Wall Street analysts' estimates and reported earnings growth for 4Q17. Improving economic conditions and higher inflation along with lower tax rates could boost the sector's earnings growth, and the financial sector could continue to fly in 2018. Direxion covers these stocks with the Direxion Daily Financial Bull 3X ETF (FAS) and the Direxion Daily Financial Bear 3X ETF (FAZ).