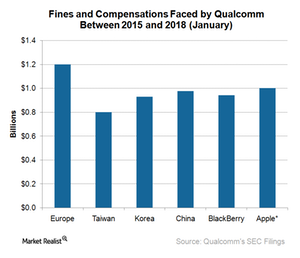 Legal Headwinds Take a Toll on Qualcomm's Pockets
By Puja Tayal

Feb. 2 2018, Updated 9:02 a.m. ET
Qualcomm's legal headwinds
Qualcomm (QCOM) has been facing legal headwinds for the last two years. It has been bombarded with probes, fines, and lawsuits around the globe, and the company is fighting back. All these fines and probes relate to Qualcomm's licensing practices and alleged misuse of its dominant position to exclude competition.
Article continues below advertisement
Fines
One of the recent fines on Qualcomm comes from the European Union (IEV). The $1.2 billion fine is the largest for Qualcomm in the last three years. The company has to pay the fine over a period of three months, which would significantly affect its cash flow in fiscal 2Q18.
In October 2017, Qualcomm faced a $774 million fine from Taiwan (EWT) for allegedly refusing to license its modem technology to other industry players. Qualcomm was to pay the fine over a five-year period in monthly installments of $13.4 million.
In December 2016, Qualcomm faced an $854 million fine from Korean (EWY) regulators for allegedly violating its competition laws. After including the impact of foreign exchange losses, Qualcomm paid $927 million to the Korea Free Trade Commission in fiscal 3Q17.
In February 2015, Qualcomm faced a $975 million fine from China (FXI) for alleged anti-competitive practices. As part of the negotiation, the chip supplier agreed to charge a royalty fee on 65% of the selling price of phones sold in China.
All these fines total $3.9 billion after adding the foreign exchange loss. Qualcomm has appealed the fines by Korea, Taiwan, and the European Union. However, the company could face more fines from the European Union and the United States if the ongoing investigations over business practices rule against the company.
Article continues below advertisement
Customer lawsuits and claims by Apple and BlackBerry
In January 2017, Apple (AAPL) filed a lawsuit against Qualcomm for charging a higher royalty for its modem chipsets. Apple claims that Qualcomm's licensing model of charging royalties on the selling price of end devices is unfair since the chip supplier ends up earning royalties even on technologies with which it has no connection.
Apple withheld $1 billion in royalty payments and stopped paying any further royalties until the court rules. That cost Qualcomm $2 billion in annual licensing revenue in 2017.
In April 2017, a binding arbitration ruling had Qualcomm pay BlackBerry (BBRY) $940 million. That included $815 million in overpaid royalties plus interest and attorneys' fees over licensing disputes. BlackBerry paid Qualcomm $2 billion–$2.3 billion in prepaid royalties. BlackBerry sold 53 million devices in 2012, but its sales fell to just 7 million devices in 2015, which resulted in overpaid royalties. The dispute revolved around whether Qualcomm's per-device royalty cap applied to BlackBerry's nonrefundable royalty prepayments. Qualcomm didn't agree with the ruling, but it couldn't appeal since the decision was binding.
Next, we'll look at Qualcomm's shareholder issues.