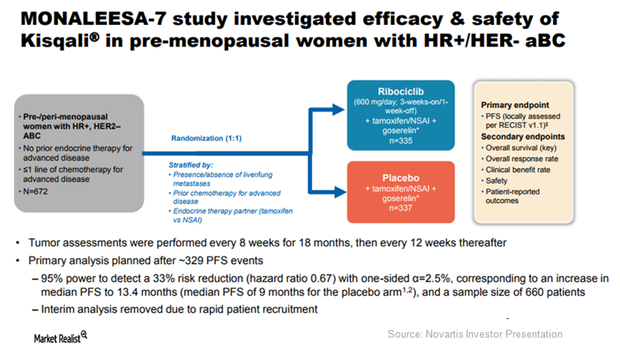 Kisqali: Therapy for Advanced Breast Cancer in Premenopausal Women
By Margaret Patrick

Feb. 20 2018, Updated 7:31 a.m. ET
Kisqali FDA approval
On March 13, 2017, the FDA announced the approval of the combination regimen of Novartis's (NVS) Kisqali with an aromatase inhibitor. This regimen is a first-line treatment option for postmenopausal women with hormone receptor-positive (or HR) human epidermal growth factor receptor 2-negative (or HER2) advanced or metastatic breast cancer. The drug was approved in a similar indication in the European Union in August 2017.
Article continues below advertisement
Launched in the US market in 2017, this endocrine-based therapy reported full-year sales of nearly $76.0 million. Coupled with a 30.0% year-over-year (or YoY) rise in consolidated sales of Jakavi, Tafinlar Mekinist, and Promacta, this enabled Novartis to report a 10.0% YoY increase in its oncology sales excluding Glivec for fiscal 2017.
Label expansion
On November 8, 2017, Novartis announced the positive preliminary results from its Phase 3 trial, MONALEESA-7. This trial compared the CDK 4/6 inhibitor Kisqali with hormonal therapies and goserelin, with endocrine therapy alone, and as first-line treatment option in pre-menopausal women with HR+ HER2- advanced breast cancer.
According to recent estimates, ~19% of the patients diagnosed with advanced breast cancer in the US in 2017 are women aged 49 or younger.
Despite the high prevalence and a significantly larger probability of these young patients dying due to this cancer compared to older women, there have been very few clinical trials focused on the pre-menopausal patient population in the US. While the current standard of care involves treating these women with ovarian suppression and oral endocrine therapies, patients gradually develop resistance to this regimen.
With Kisqali targeting this highly underserved market segment in the breast cancer space, the drug has enabled Novartis to compete effectively with other breast cancer players such as Pfizer (PFE), Roche Holdings (RHHBY), and AstraZeneca (AZN).
In the next article, we'll discuss the growth prospects of Promacta, Jakavi, and Tafinlar Mekinist.