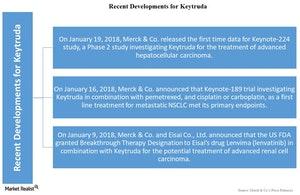 Keytruda's Developments after Merck's 4Q17 Earnings
By Mike Benson

Updated
Keytruda
As we discussed earlier, Keytruda (pembrolizumab) is Merck & Co.'s (MRK) top-selling drug, with revenues of ~$1.3 billion in 4Q17. Keytruda is approved for seven indications to date and is under clinical trials as a monotherapy or in combination with other therapies for the treatment of more than 30 tumor types.
The approved indications include the use of Keytruda for the treatment of:
non-small cell lung cancer

advanced melanoma

advanced urothelial cancer

microsatellite instability-high cancer

squamous cell carcinoma of head and neck

classical Hodgkin lymphoma

advanced gastric cancer
Article continues below advertisement
Keytruda's recent developments
On January 19, 2018, Merck & Co. (MRK) released the first-time data for the Keynote-224 study. Keynote-224 is a Phase 2 study investigating the use of Keytruda for the treatment of advanced hepatocellular carcinoma, a type of liver cancer, in patients who were previously treated with Sorafenib.
On January 16, 2018, Merck & Co. announced the data from the Keynote-189 trial. Keynote-189 is a Phase 3 trial investigating the use of Keytruda in combination with Eli Lilly & Co.'s (LLY) Alimta (pemetrexed) and cisplatin (or carboplatin) as a first-line treatment for metastatic non-squamous non-small cell lung cancer. The study met its primary endpoints of progression-free survival and overall survival.
On January 9, 2018, Merck & Co. and Eisai Co. Ltd. announced that the FDA granted Breakthrough Therapy Designation to Eisai's drug Lenvima (lenvatinib) in combination with Keytruda for the potential treatment of advanced renal cell carcinoma. This is the second Breakthrough Therapy Designation for Eisai's Lenvima and the 12th Breakthrough Therapy Designation for Merck's Keytruda.
On January 2, 2018, the Japanese Ministry of Health, Labor and Welfare approved Keytruda for the treatment of radically unresectable urothelial carcinoma in patients reporting disease progression after chemotherapy.
Other drugs for the treatment of urothelial carcinoma include AstraZeneca's (AZN) Imfinzi, Bristol-Myers Squibb's (BMY) Opdivo, and Pfizer's (PFE) Bavencio.