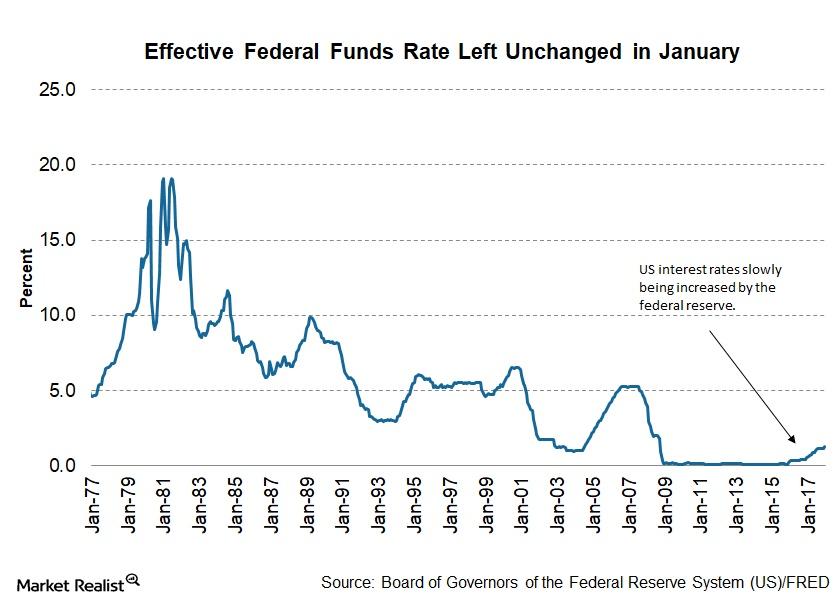 Key Updates from the January FOMC Meeting
By Ricky Cove

Feb. 1 2018, Updated 12:09 p.m. ET
Janet Yellen's last Fed meeting
The first FOMC meeting in 2018 ended on January 31, 2018. It was the last meeting for Fed Chair Janet Yellen. She will be replaced by the newly confirmed 16th Fed Chair, Jerome Powell, on February 3. At this meeting, the Fed's target interest rate range was left unchanged at 1.25%–1.50%. The decision to leave interest rates unchanged was largely expected, but the Fed's confident tone in the January statement about inflation (VTIP) moving towards its 2% target was a change from previous statements. The decision to leave the rates unchanged was unanimous at this meeting.
Article continues below advertisement
Chances increase for a March rate hike
Taking cues from the change of tone regarding inflation (TIP), the Fed's statement said, "Inflation on a 12‑month basis is expected to move up this year and to stabilize around the Committee's 2 percent objective over the medium term." The chances of a rate hike in the next meeting improved. The FOMC statement also mentioned that economic outlook risks remain roughly balanced. The FOMC will be monitoring the inflation situation going forward.