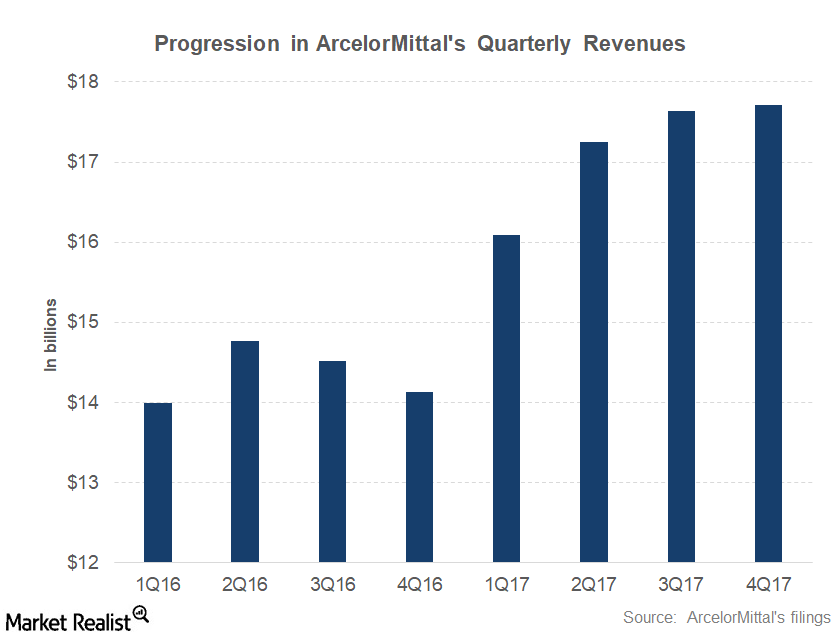 Key Drivers of ArcelorMittal's 4Q17 Revenues
By Mohit Oberoi, CFA

Feb. 1 2018, Published 10:00 a.m. ET
ArcelorMittal's 4Q17 revenues
ArcelorMittal (MT) reported revenues of $17.7 billion in 4Q17. The company posted revenues of $17.6 billion in 3Q17 and $14.1 billion in 4Q16. In this part, we'll look at the key drivers of ArcelorMittal's 4Q17 revenues.
Article continues below advertisement
Key drivers
Steel companies' revenues are a function of steel shipments and average steel selling prices (X) (PKX). ArcelorMittal shipped 21.0 million metric tons of steel in 4Q17—compared to 21.7 million metric tons in 3Q17 and 20.1 million metric tons in 4Q16. While ArcelorMittal's 4Q17 steel shipments fell on a sequential basis, they were more than offset by the higher ASP (average selling prices). The company reported an ASP of $709 per metric ton in 4Q17—compared to $690 per metric ton in 3Q17 and $589 per metric ton in 4Q16. Notably, ArcelorMittal's 4Q17 ASP was the highest since 4Q14. Now, let's see how ArcelorMittal's different business segments performed in 4Q17.
Segment wise performance
ArcelorMittal's Mining and NAFTA (North American Free Trade Agreement) segments reported sequentially lower revenues in 4Q17. Brazil, Europe, and ACIS (Africa and Commonwealth of Independent States) reported sequentially higher revenues in the quarter. The segments' performance was more or less in line with the expectations. Looking at NAFTA, US steel demand tends to slow down in the fourth quarter, which is eventually reflected in the performance of steel companies with exposure to the US market (NUE) (CLF). Looking at the Mining segment, iron ore prices weakened in 4Q17, which had a negative impact on its revenues.
Notably, all of ArcelorMittal's segments reported a sequential increase in their 4Q17 ASP. Along with revenues, higher ASP supported ArcelorMittal's 4Q17 profitability.