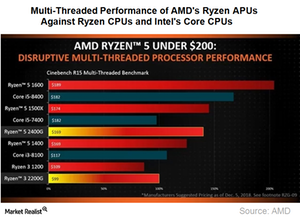 Is Advanced Micro Devices' Ryzen APU Better Than Older Ryzen CPU?
By Puja Tayal

Mar. 1 2018, Updated 10:31 a.m. ET
AMD's Ryzen APU performance
Advanced Micro Devices' (AMD) new Raven Ridge APUs (application processing units) deliver a better performance than Intel's CPUs (central processing units) and a similar performance as Intel's (INTC) CPU and Nvidia's (NVDA) GT 1030 GPU (graphics processing unit) combined. However, in the latter's case, AMD wins on cost and power efficiency.
Let's compare the Ryzen APU to Nvidia's GPU and the Ryzen CPU.
Article continues below advertisement
AMD's Ryzen APU and Nvidia's GT 1030 GPU
In a Forbes article, contributor Antony Leather disabled the Ryzen 5 2400G's Vega GPU and paired it with Nvidia's GT 1030. He found that Nvidia's GPU beat AMD's Vega GPU in gaming. The Unigine Superposition GTX 1030–powered Ryzen 5 2400G got a 10% performance improvement over Vega-powered Ryzen 5 2400G. In Fallout 4, GTX 1030 reached 30 FPS (frames per second) compared to Vega's 25 FPS. In Deus Ex, GTX 1030 reached 27 FPS compared to Vega's 23 FPS.
After overclocking both the CPU and GPU portions of the original Ryzen 5 2400G, it matched the performance of the GTX 1030–powered Ryzen 5 2400G. Even though Nvidia's GTX 1030–powered Ryzen 5 2400G delivered a better performance, gamers would have to shell out $100 more, making it expensive for budget gamers.
Article continues below advertisement
AMD's Ryzen APU against its stand-alone CPU and GPU
The Forbes article also compared the Ryzen 5 2400G APU with the comparatively priced Ryzen 5 1500X CPU but without any onboard GPU. It seems like AMD's Ryzen 5 2400G might eat up the market of the Ryzen 5 1500X since both have four cores/eight threads and support multithreading workloads, but the former offers an onboard GPU at the same price.
Comparing the Ryzen 5 2400G with AMD's RX 550 GPU, the former is competitive in some games since its Vega GPU has higher CU (computing units) and a faster core frequency than the latter. The Ryzen 5 2400G has 11 CU compared to AMD's RX 550's 8 CUs, RX 560's 14 CUs, and Nvidia's GTX 1030's 3 CUs.
However, the Ryzen APU has two limitations against its counterpart Ryzen CPUs. The APU offers only eight PCIE (Peripheral Component Interconnect Express) lanes for the GPU compared to 16 lanes offered by the CPU. Moreover, the APU offers only 4 MB (megabytes) L3 cache compared to the Ryzen 5 1400 CPU's 8 MB L3 cache.
Looking at all reviews and permutations and combinations, we can say that AMD's Ryzen APUs offer a better price-to-performance ratio than its predecessors and similarly priced products from its rivals Intel and Nvidia. However, its rivals are not sitting quietly.
Next, we'll see what its rivals are doing to address the competition from AMD's APUs.